TLDR:
Another club boss to fight daily (Fight higher bosses for better rewards)
First 2 rounds: Apply debuffs/buffs to weaken boss
Last round: Max DPS boss
Profit
Introduction
Daily (8am – 12mn) (similar to Club Challenge)
This is another version of Club Boss, where the goal is to deal as much damage as you can. Unlike Club Challenges, these bosses have infinite HP (which solves the issue of bosses dying too quickly so no more need to cap damage to 70m like Geryu!).
There are 3 bosses we know as of now – Gouketsu, Gyoro-Gyoro and Garou – each increasing with difficulty of course.
It is similar to the past events boss challenges where you need to 'weaken' the bosses in first few rounds by applying specific debuffs. The higher you can apply the debuffs, the more you weaken the boss, such as reducing their tenacity effects etc, but it's not critical to get 10/10, just try your best to get the highest.
Round 1 and 2: (2 rounds each) Apply debuffs/buffs to weaken (best is 10/10)
Round 3: (8 rounds) Deal as much damage as you can to the boss. Only damage dealt to the boss counts, not the minions.
You'll get to select your lineups for the 3 teams before the fight, so plan carefully at the start. Once you get the lineup down, you can just skip for subsequent runs.
There are a couple benefits to hitting a higher level boss, you get more points that contributes to the club vault which would be opened after a certain amount of points are accumulated. When the vault is opened, the entire club can open chests to obtain gears/buff gears. You also obtain more buff gear materials with each attempt, 30 faction materials and 30 class materials from Gouketsu versus 50 faction materials and 50 class materials from Garou per attempt. Hit higher bosses for the entire club to benefit together.
Round 1 Team – all 3 bosses
Burn/Corrode – Genos (core4)/Gyoro(core), DSK, Lightning Max, STK, MK/Blue Fire, Groribas
If you don't have any of these, swap accordingly with what you have from the list below.
Round 2 Team
Shatter (For Gouketsu) – CE (core4), MEM, GB, Sonic, KING, Elephant (Deep Sea Destroyer)
Internal Injury/Injury (For Gyoro) – ZBM (core), Garou, AM, SF, Lin Lin, Alloy
Shields (For Garou) – ZBM (core only), TTM, Alloy, Fubuki, SF, Loincloth.
If you don't have any of these, swap accordingly with what you have from the list below.
Round 3 Team (Main DPS)
Your main team that will be used in Round 3 to deal the most dmg.
Recommended units:
Boros
AM
BK
Gyoro (core if possible, using Boros+RMG)
ZBM (if not used in team 2)
Garou
RMG (future)
G4 (future)
Suggested Units
Burn

MK (Basic)
Lightning Max (Basic)
Phoenixman (Ult)
SR Genos (Ult)
Blue Fire (Ult)
Magicman (Ult crit)
STK (Ult)

Corrode

Groribas (Ult)
MotS (Ult)
Konbu (Ult)
Fukegao (Basic CRIT only)
DSK (Basic)

Shatter

Sonic (Basic)
MEM (Basic)
CE (Ult)
GB (Ult)
AS (Ult)
Flashy (Ult)
KING (Basic)
Iairon (Ult)
Stinger (Ult)
Elephant (Ult)

Internal Injury

Garou (Basic/Ult)
Gouketsu (Basic)
SF (Ult)
Lin Lin (Basic)
Bakuzan (Ult)

Injury

AM (Basic/Ult)
BK (Ult)
TT (Ult)
MK (Ult)
Fukegao (Ult)
Alloy (Ult)
Loincloth (Ult)
Zombieman (Basic)

Tenacity

TTM (Ult)
Alloy (Basic)
Fubuki (passive)
Flashy (Ult)
Snek (Ult)
Armored Gorilla (Ult)
YO649Z MkII (Ult)
SF (passive)
Loincloth (passive)
Bushidrill (future)
---
REWARDS
After each boss attempt, you get buff gear materials, some gear cards and gold.
Similar to Club Challenge, you also get a chest based on how much damage you deal, which has the new gear sets (Gunner/Magic/Flash).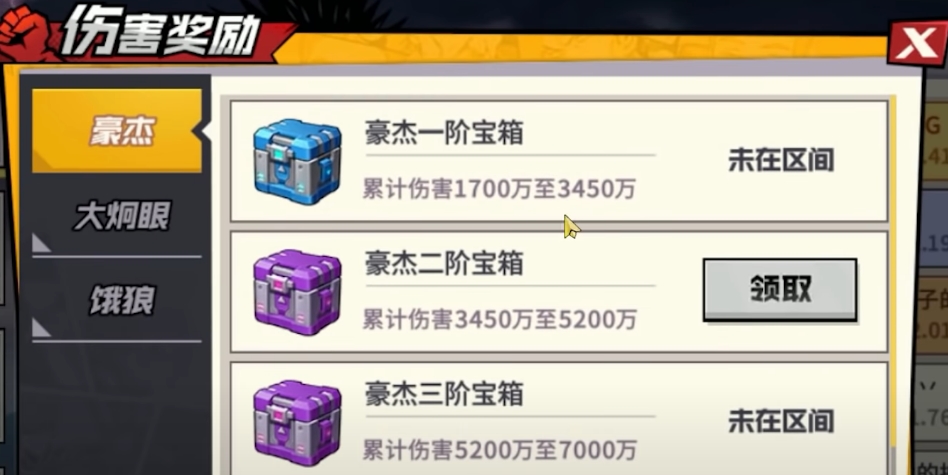 After accumulating a certain number of points, the club can open the vault, which rewards with more gears/buff gears.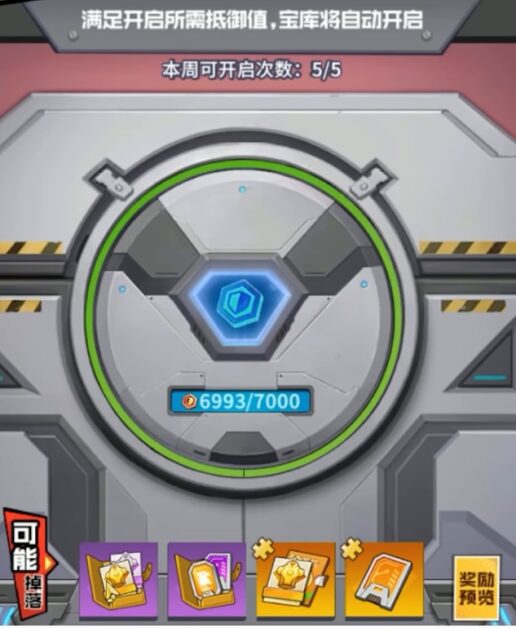 ---
TIPS
Credits to Mikha
You have 1 free attempt everyday, you also get an additional ticket from 100 daily activity, which gives you 2 free tickets everyday. You get buff gear materials for every attempt and an additional attempt costs you 200 gems. Buying attempts is overall cheaper than buying buff gear materials in mall and its might be recommended for some whales to buy additional attempts if you want to speed up your progress.
While this might be obvious, maximise the buff reductions that you can deal to the boss in the first 2 rounds, you can restart the app to restart the attempt if you are not too far away from completing the requirements to unlock the next boss.
While you might be tempted to use ZBM to land injury for the second stage against Gyoro, he will be a lot more effective in the last stage to land injury. He will also be more effective in speed 1 if you are going to hit the boss manually, where you can alternate between using his normal attack and ultimate. Otherwise, it doesn't matter much if you're going to skip the battle.
Garou's counterattacks against hero units all the time and you might want to use non-hero units in stage 1 and 2 against him to prevent him from counter attacking if you're going for a high score, otherwise it might not matter too much.
You're unlikely to need a healer for Gyoro as the damage it deals is underwhelmingly low, but you would need one for Garou club boss and hence you can adjust ZBM ult accordingly. If your units cannot survive Garou club boss all the way, you might want to replace certain DPS units with tankier units such as phoenixman which has undying.
---
If you liked this article, do bookmark this site and follow our Twitter for more One Punch Man: The Strongest guides and updates like this! Join our Telegram group for faster updates!