SUMMARY
Do your 5 placement matches
Use your 10 challenge chances daily
Claim rewards
Resets weekly on Mon
---
INTRODUCTION
This is a new PVP system that just launched on 27 Oct 2022 in SEA. Basically it's similar to Apex Clash, but the rewards are great!
---
TIMELINE
Every season contains 4 weeks
Week 1 – Preview
Week 2, 3 – Challenge
Week 4 – Truce
---
GAMEPLAY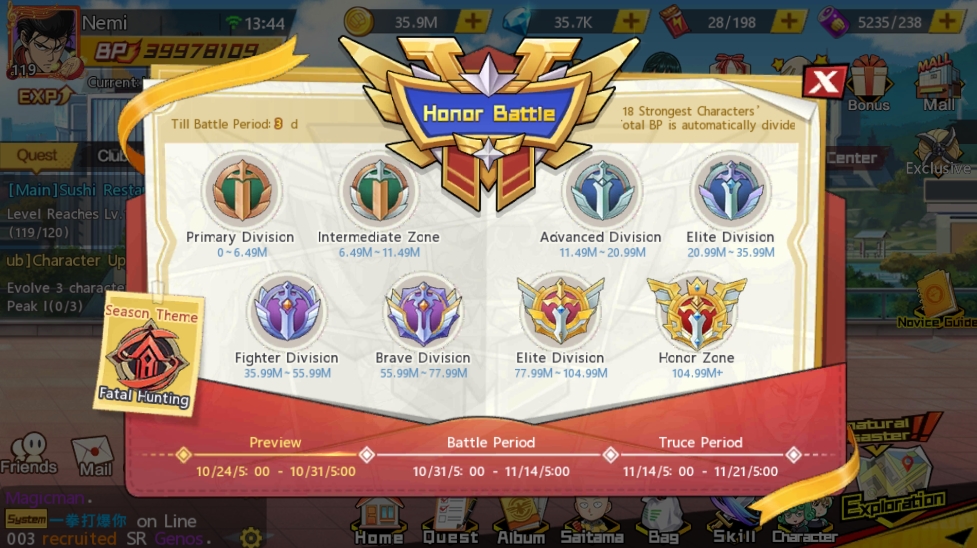 Access from main city (beside Arena)
8 Divisions – different requirements

Primary Division: 0-6.49M BP
Intermediate Zone: 6.49M-11.49M BP
Advanced Division: 11.49M-20.99M BP
Elite Division: 20.99M-35.99M BP
Fighter Division: 35.99M-55.99M BP
Brave Division: 55.99M-77.99M BP
Elite Division: 77.99M-104.99M BP
Honor Zone: 104.99M+ BP
For every season, 5 placement battles required before formal matches. Primary tier is determined by the total scores of the 5 placement battles. These look to be against War Zone Guards (computer), so you should win easily
There will be seasonal themes, which basically grant special perks during battle
Winning the 1st battle (highest BP) will grant more score as compared to winning in Battles 2 and 3

Battle 1 Win: 9 points
Battle 2 Win: 6 points

Doing a challenge will consume your chances, regardless of win or lose
Chances recover daily, can accumulate until Sun, and it resets at 5AM Mon
You may purchase extra chances with gems, at an incremental rate

Buy first chance: 30 gems
2-3: 60 gems each
4-5: 120 gems each
6 onwards: 200 gems each
Purchase resets on Mon, so if you're buying, the best 'bang-for-buck' would be buy 5 chances (390 gems total)
You can however buy a max of 50 chances for 9390 gems if you're a whale

There are Weekly Rewards, Tier Rewards and Season Rewards to claim simply by just playing. Not much you can do if you're F2P, as it's really a whale's game if you intend to climb.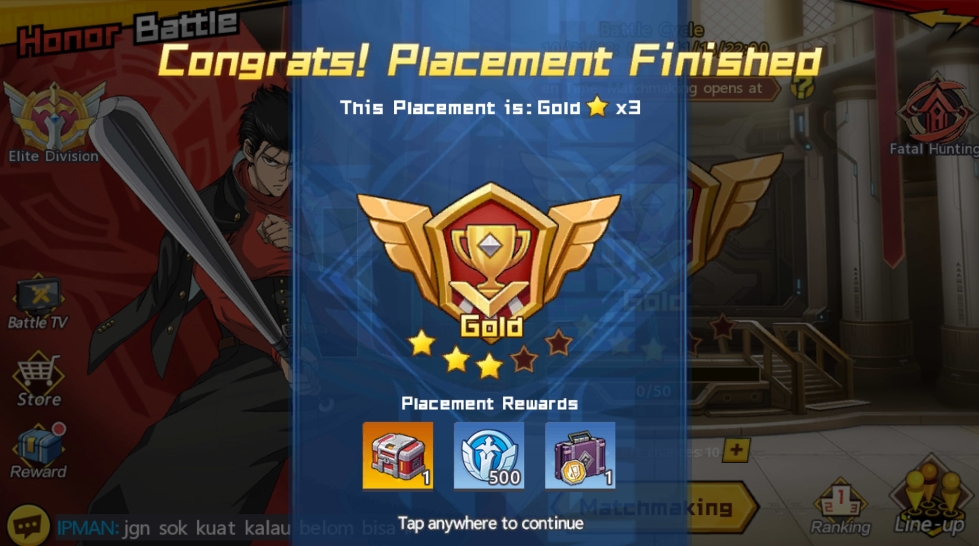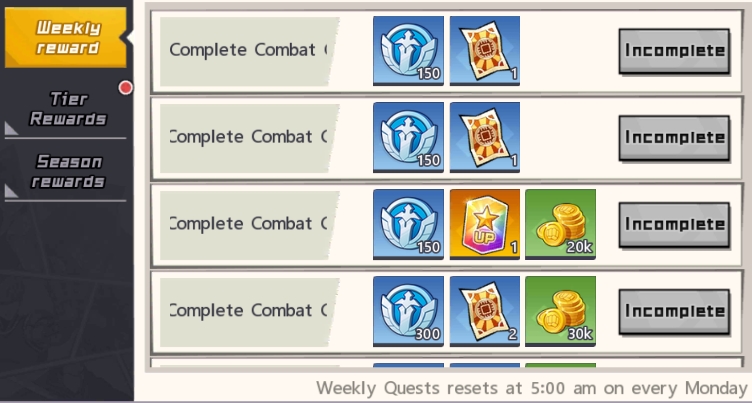 ---
STORE REWARDS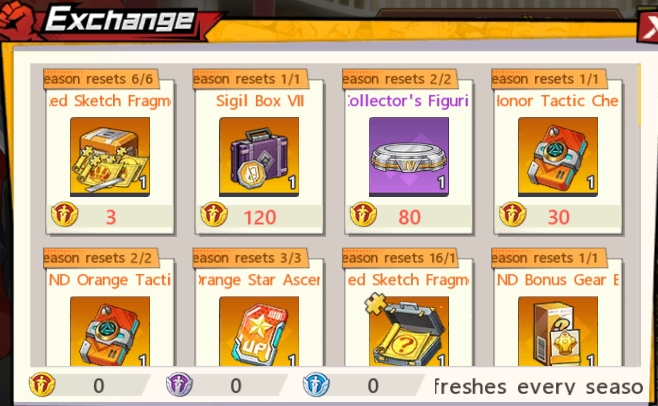 The 3 currencies used are

Orange medal (Superb honor medal)
Purple medal (Rare honor medal)
Blue medal (honor medal)

Tons of great rewards to exchange! Must gets:
Orange medal section:

Sigil Box VII
Red Sketch Fragment Box
Honor Tactic Chest

Purple medal section:

Superb Voucher
Refinement Card
Sigil Box VI
Orange tactic SAC
Refinement Supply token
RND Orange Tactic Box

Blue medal section:

Sigil Box IV
SAC
Tactic Voucher
Tactic Frames
Purple tactic SAC
Tactic boxes
Saitaima Figure! (for collectors)
---
TIPS
When you challenge, you're able to see the line-up of the opponent. Based on this info, you can adjust your line-up to use the correct counters, or spread out your good units if able.

Example if opponent team 1 and 2 is not so strong, you can put your main units in team1 and put CK+ in team 2 with Bomb core, that should secure you 2 wins
Since the team 3 of opponent is usually the weakest, you can manually put your team3 to use Bomb core with ATT and VM, so you would have a high chance to win. You have to manipulate the BP to be the lowest though, so you have to put crap units for the other slots etc

Although you can't change the order like Dojo, you can manually adjust the BP of your teams to switch the order since Highest BP goes first.
It is advised to play manual for best results if possible. Don't skip !
If you are losing, you can force close the app and restart, and your chances will not be used
---
If you liked this article, do bookmark this site and follow our Twitter for more One Punch Man: The Strongest guides and updates like this! Join our Telegram group for faster updates!