This event is probably one of the most complex and annoying events ever. I appreciate that they are trying to mix things up a bit and give us more 'mechanics', but if it's not intuitive on what and how to do then it's just bad game design, and that's what this is.

Even after reading multiple times it's hard to understand. Huge thanks to Mikha for some of the info below.
Once again, this guide is aimed for F2Ps. If you're a whale, spend however you want and play however you want.
TLDR:
Skip Cozy House and Snowy Street (even for first clear)
Gift Wishing: Wish for BELLS. Try to get 60 points daily if you can
Do Christmas Bandit Hunts, including Aid

Remember to "share" your bandits so that others can aid

You can spawn bandits while clearing daily stam and vit so always check if you've spawned any

Buy BT and BS with your bells mainly.
If aiming for sigil rank rewards, spend 180 gems daily on 3x aid attempts. If buying stuff with bells, you may spend 88 gems on bell packs in mall.
---
Rewards
Christmas Shop
The usual spend-currency shop, where the currency used here are the bells, hence why you should wish for them.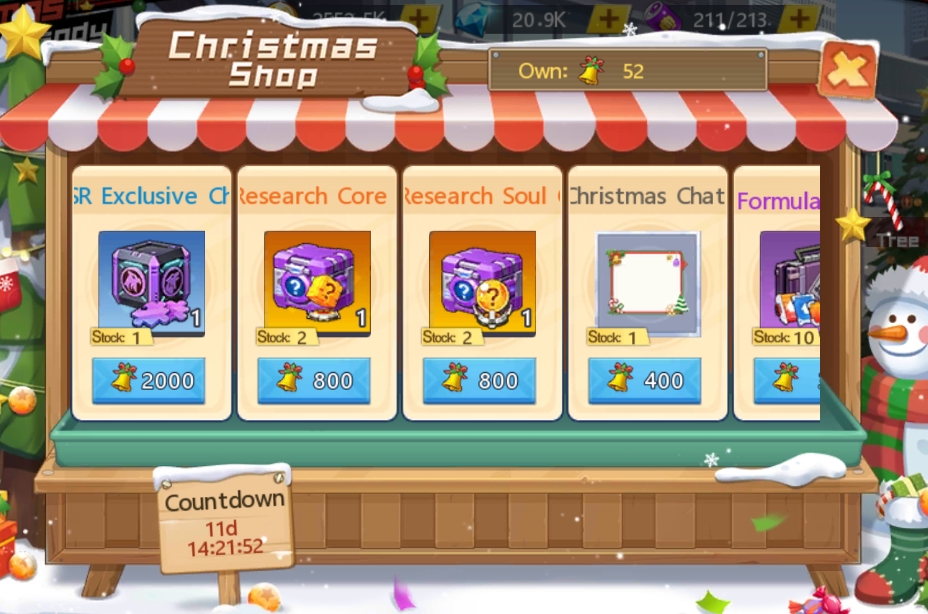 GB/Spring Mustachio KS – 2000
Research Core Chest (Bloodied/Brutal/Prodigy) x2 – 800 ea
Research Soul Chest (Bloodied/Brutal/Prodigy) x2 – 800 ea
Christmas Chat Box – 400
Formula Chest (Buff Gear Materials) x10 – 38 ea
Black Shuriken x2 – 110 ea
Black Ticket x2 – 110 ea
Reversion Card – 300
Core Power Chest x4 – 50 ea
Awaken Chip Chest x4 – 60 ea
RND Book Chest x20 – 25 ea
Must buy: Black Ticket/Shuriken. Buy all.
Optional:
-GB KS if you want. He's not really used in PvP Meta anymore but still useful for certain PvE situations
-Christmas Chat Box for collectors
-Reversion card if you don't have any left (if you have more than 3 you can probably skip)
-Orange core parts if you are lacking some pieces to hit your level 4s
---
Decorate Christmas Tree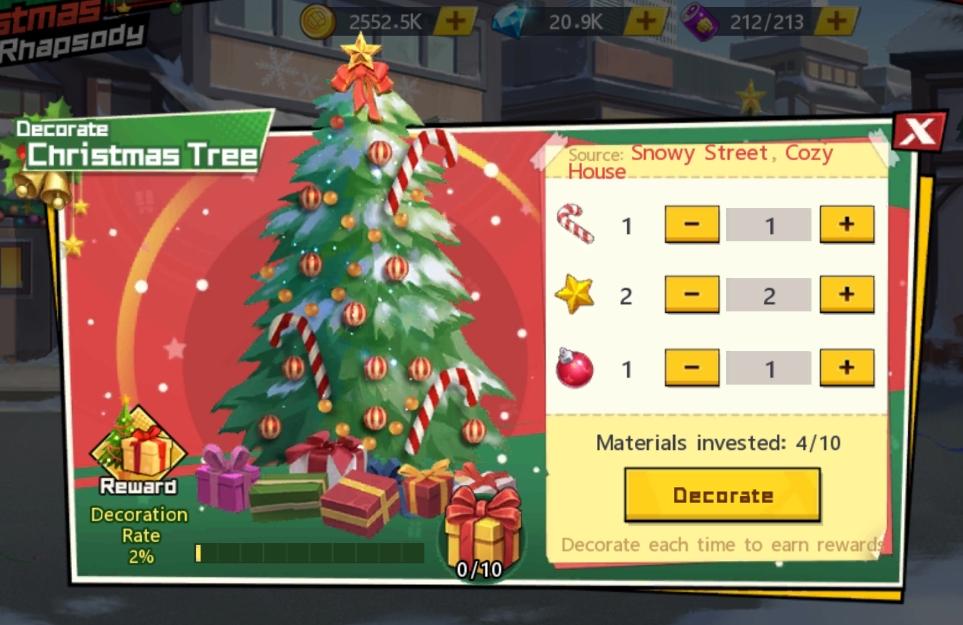 Here you spend any 10 materials (cane/star/lamps) to earn a reward, similar to the oden thing. I am guessing it's random so don't bother about trying to figure out 'recipes'.

Pro-tip: Save your decorations for the Deco quest, enough to last you the whole event.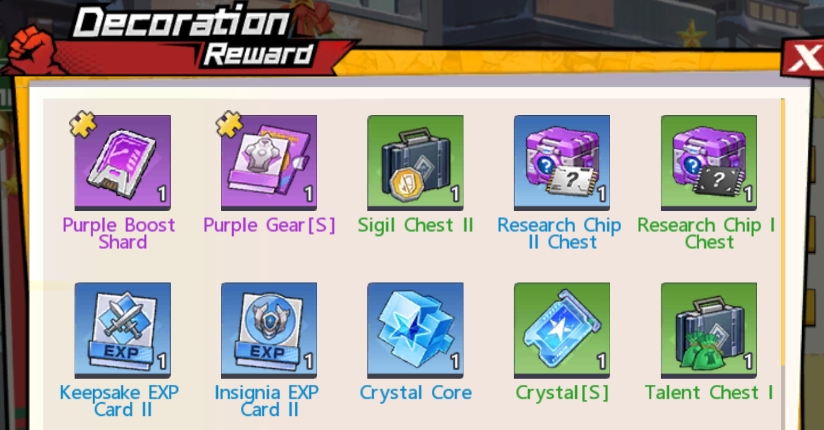 Conclusion? Crap.
As you decorate the tree, you also increase a progress bar. Once you hit 100% you get to open a chest, this time with better rewards. BUT, not worth to do.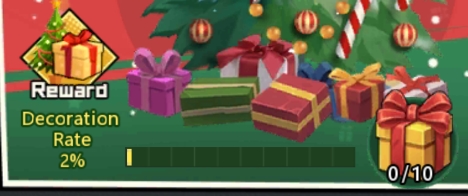 440 vitality required for first clear for roughly 1 christmas box, less in subsequent clears. Around 2500 vit to reach the 2x SACs on 5th christmas box. 5000 vit to reach S1 badge. Spend your vit elsewhere like Nightmare CC.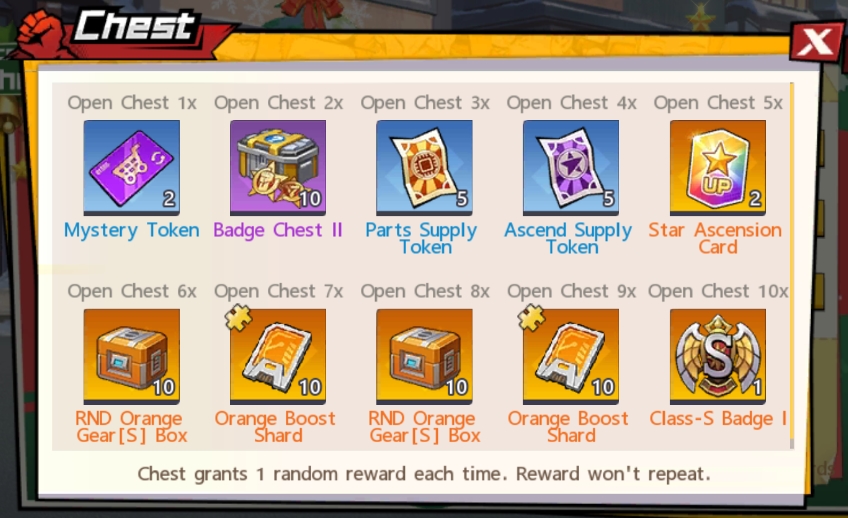 ---
Cozy House / Snowy Street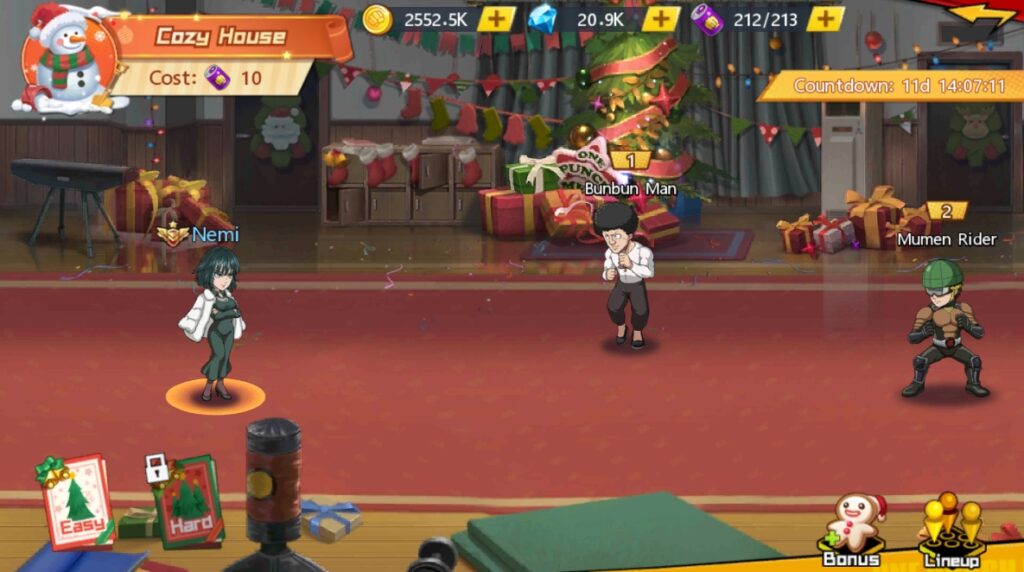 This is your typical spend vit missions. There are 2 chapters, and 2 difficulties for each chapter (Easy/Hard).
Cozy House – Drops cane and star
Snow Street – Drops lamp and star
PS: You can use the gingerbread man under Bonus to gain more drops.
Skip this, even for the first clear.
---
Gift Wishing
Wish for bell as that is the main currency for the shop. You can only wish for 1 present everyday (cannot change).
After that it's like backup stick, you need to do quests to get points to hit gift openings. Try to aim for 60 points daily for a total of 2x gifts. Feel free to refresh your quests. Do note the quests are NOT retroactive, meaning if you decorated your tree and then receive the quest, it will not count towards the quest progress. So make sure you receive the quests before you do any event related tasks.

The points and quests will reset daily at 5am.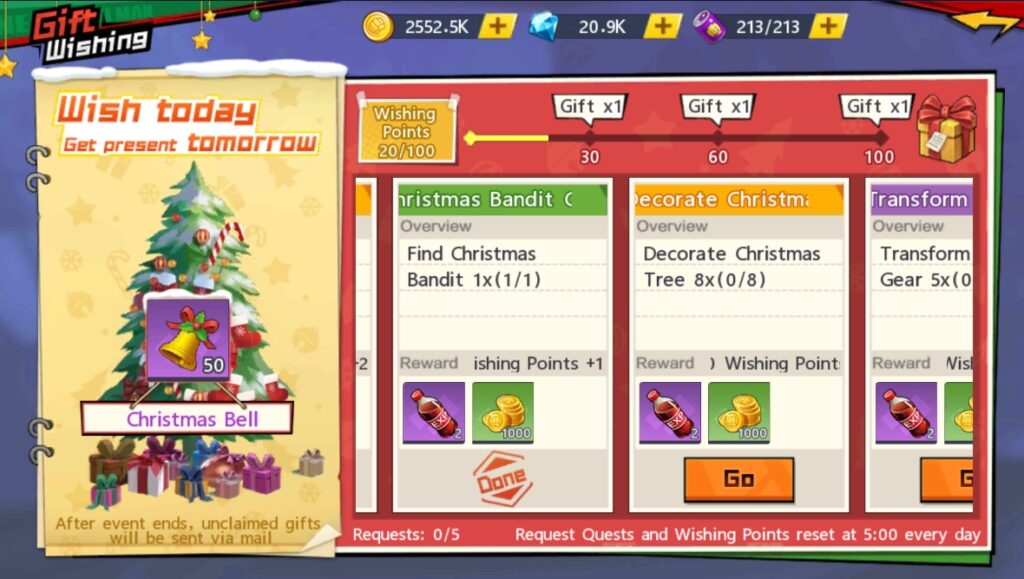 ---
Christmas Bandit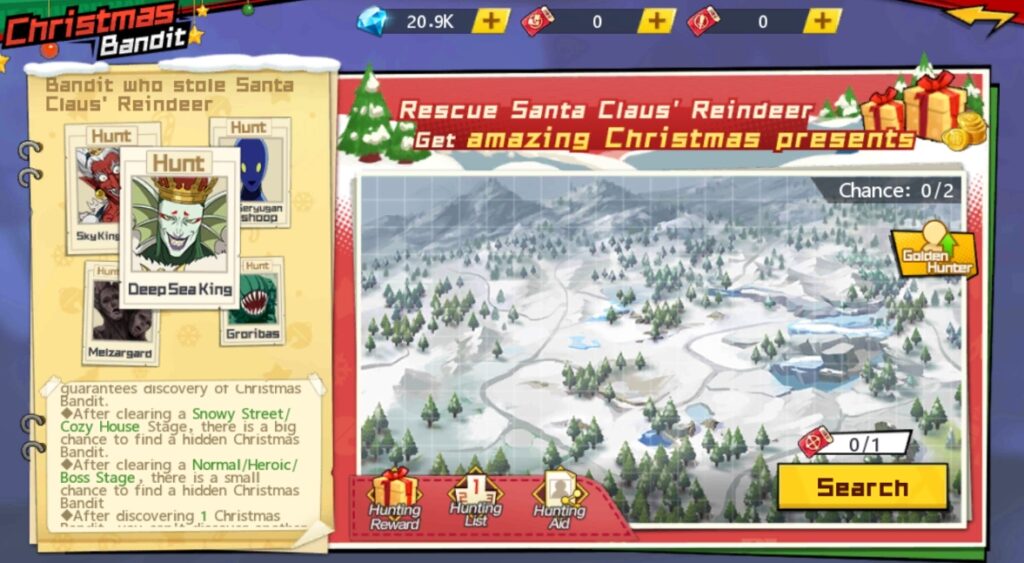 It's like a mix of club exploration and boss challenges. Search for bandits, and try to repel them.
You can also help others fight their bandits by clicking "Hunting Aid".
Everyday you get 2 free challenge tokens, and 1 free aid token, and 1 free tracking voucher.
There's also a chance bandits will appear when:
You clear a Snowy St/Cozy House stage
You clear a Normal/Heroic/Boss stage
So do check your bandits after spamming your stam.
Golden Hunter are just 'selected' units that get extra stat bonuses, nothing fantastic.
You get rewards from ranking in both the Hunt and Aid ladder.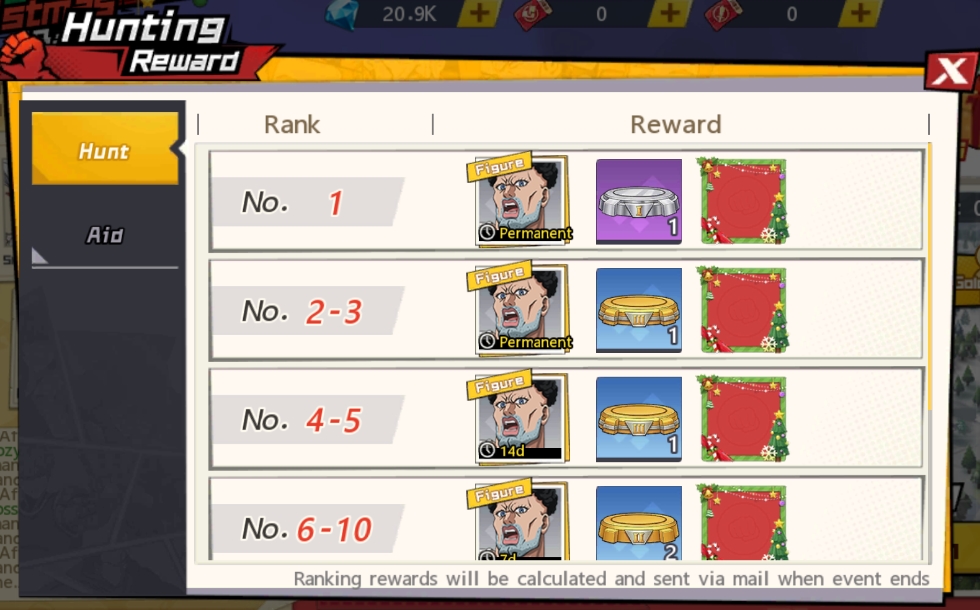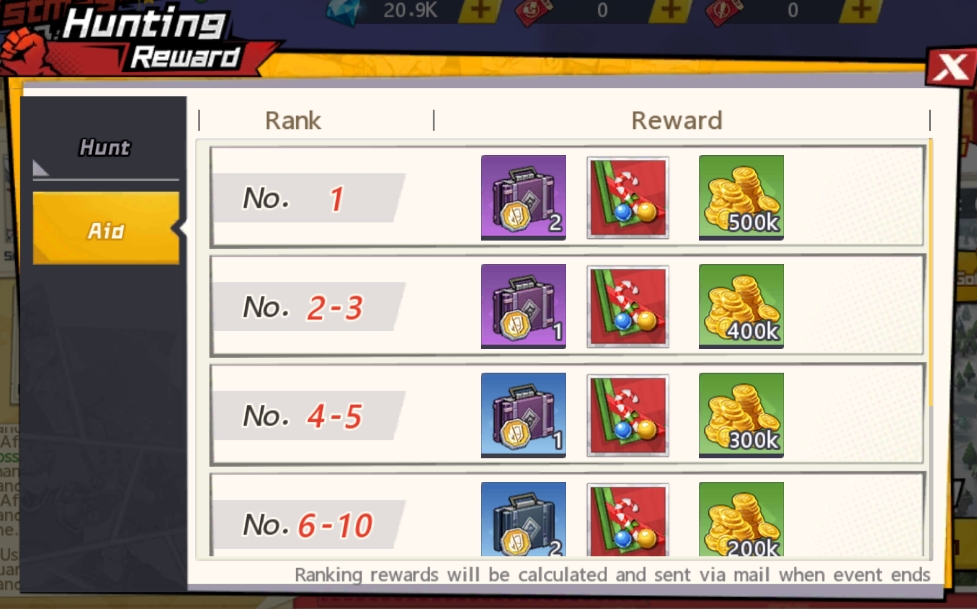 ---
Guess what. OPM Japan gives everyone a free frame! Talk about generosity!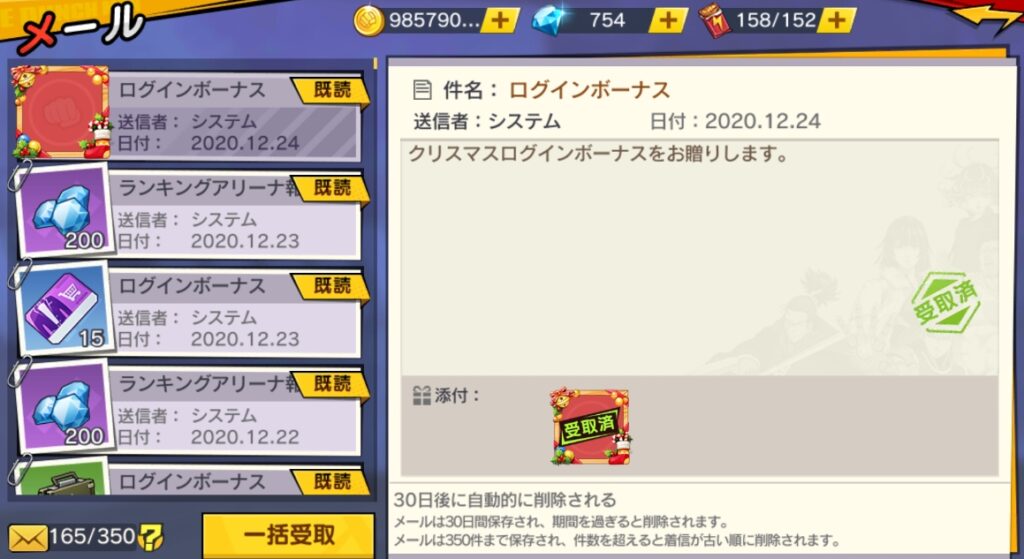 If you liked this article, do bookmark this site and follow our Twitter for more One Punch Man: The Strongest guides and updates like this!