1 – 11 May 5AM
TLDR
Pretty simple event with great rewards!
Clear stages in City Adventure with VIT to get Cards and Clues
Cards: Claim rewards in Travel Plan as you accumulate Cards
Clues: Used at Adventure Request – Activate 3x Boss Info to unlock Boss Challenge. Clear Boss to get Coins
Coins: Spend at Flea Market for great prizes!
Remember to do your Daily and Event quests at Adventure Booklet!
---
City Adventure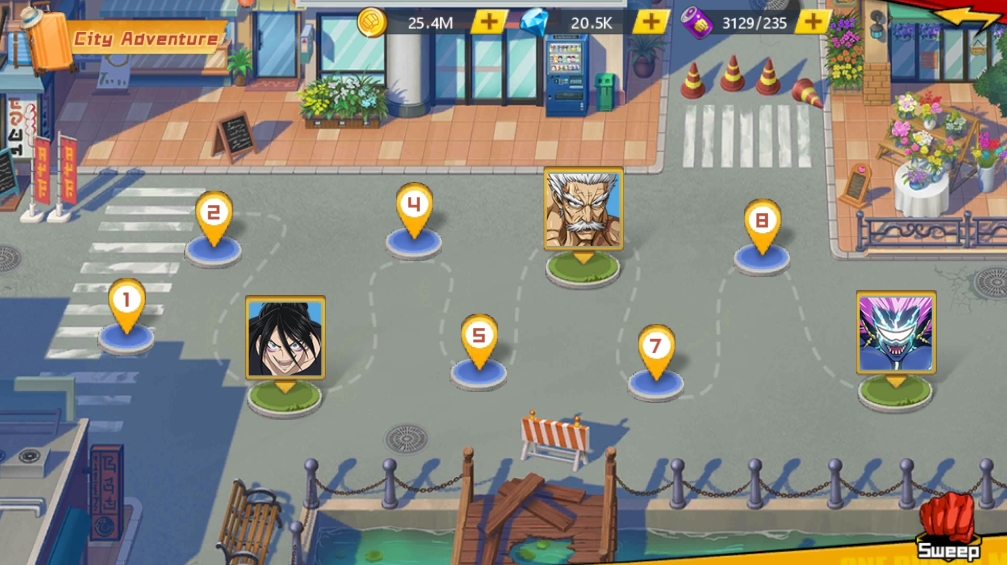 Only 9 stages here, including 3 bosses. The rewards are Cards and Clues
Normal stages cost 10 VIT, Boss stages cost 12 VIT.
You can sweep the stages after clearing it once.
Sweep normal – 3 cards, 3 clues
Sweep boss – 5+ cards, 5+ clues
Sweep boss stages but remember to also sweep according to the quests you get (eg Clear Sonic 30x)
---
Flea Market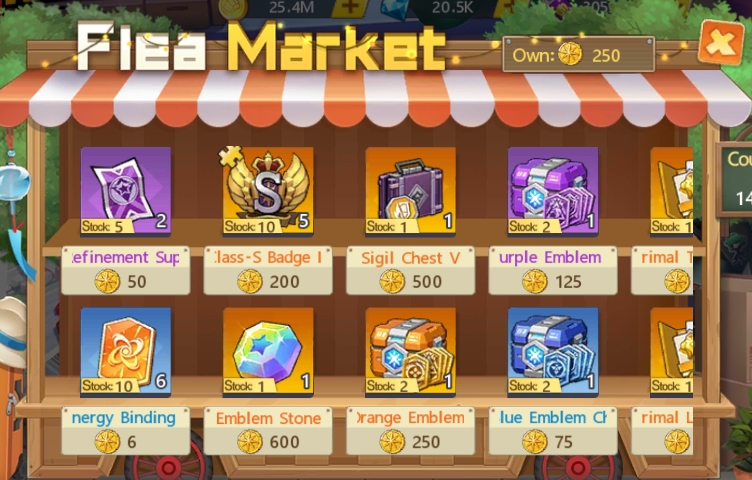 Spend your coins here which you get from the boss challenge as well as from quests. Plenty of great rewards here so get whatever you need! (The BT/BS are in the Travel Plan rewards section)
Priority List
Recommended to get!
SACx3 (50 each)
Orange Emblemx2 (250 each)
Purple Emblemx2 (125 each)
Reset Lockx2 (35 each)
Emblem Stone (600)
Refinement Supply Token(2×5) (50 for 2)
Get if you can but not a must
Sigil Chest V (500) – the reason I put this here is because it's random, so you might get a crappy sigil. If you have spare coins definitely give it a shot!
Class S2 badge (5×10) (200 for 5)
Blue Emblemx2 (75 each)
Orange gear shards (250 each)
---
Travel Plan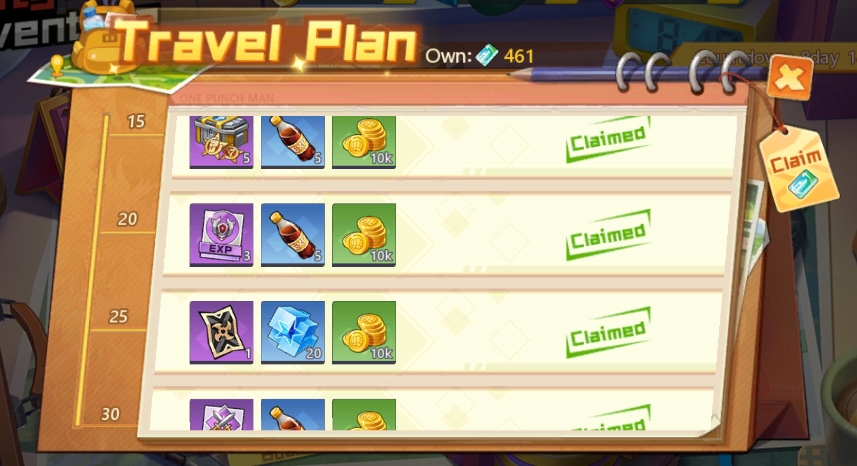 As you clear stages and get more travel cards, you just need to claim your rewards here, easy!
Notable Rewards:
25 – BS
50 – BS
100 – SAC
180 – Collector's Figurine Base
350 – Omnishard
400 – Special Training Shard x20
450 – BT
800 – Omnishard x2
900 – Special Training Shard x20
1000 – BT
1500 – Reversion Card
---
Adventure Request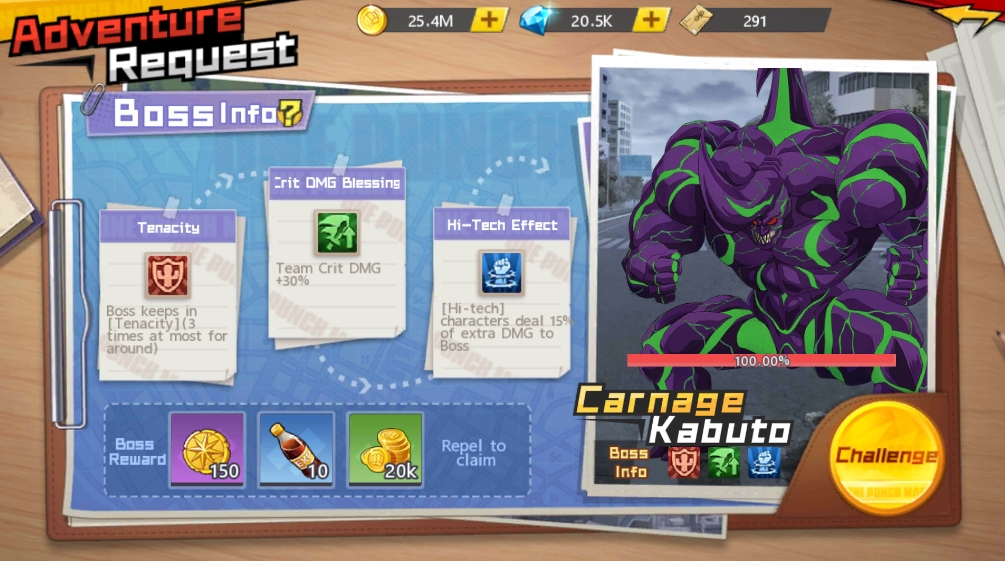 Use the clues that you get from clearing stages to activate the Boss info x3 to unlock boss challenge.
Need a total of 100 clues (20 + 30 + 50) to unlock.
Defeat the boss to get coins! Once defeated it will cycle to a new boss.
Advised to clear it only once a day so you can do the daily quest. Save up extra clues and clear all on the last day.
Line-up just use your PVB line-up – units like RMG, G4, GW, Sonic, Boros+, MB+, CK+, etc.
---
Adventure Booklet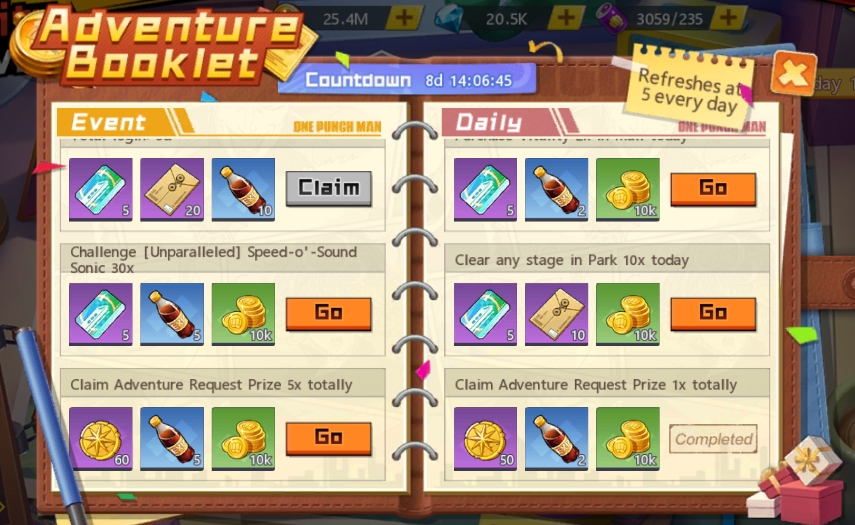 Daily quests include:
Purchase Vit x2 today
Clear any stage 10x today
Claim Adventure Request prize x1 << Remember to save up and do it once per day for quest, and clear all on last day.
Event quests include:
Daily login

Claim Adventure Request Prize X times

Challenge Sonic stage 30x (I assume it will cycle SF and Boros as well after completing this)
---
If you liked this article, do bookmark this site and follow our Twitter for more One Punch Man: The Strongest guides and updates like this! Join our Telegram group for faster updates!