1 May 5AM – 11 May 5 Am
TLDR
Very straightforward event.
Clear stages with vit (sweep the last hard mode)
Kill bosses in main city (difficulty based on ur PVE lineup)
Buy items in shops (2 shops) – BS/BT/SAC priority
Spend postcards in Trip Memorial
If you are doing backup stick make sure you allocate some vit to complete those quests too. Use Saitama Intel if required for this event.
---
Mirror Lake / Boundless Mountain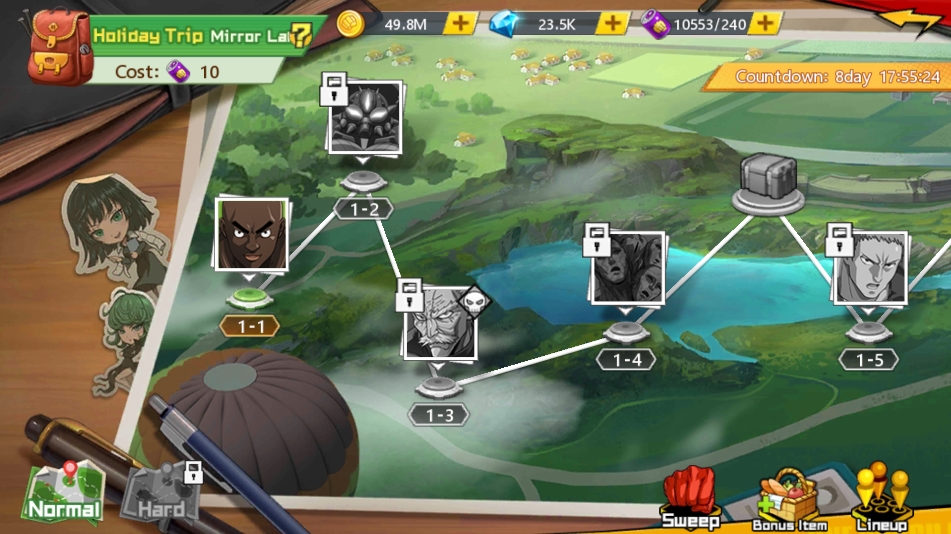 The usual spend vit to clear stages – and it's the only way to reliably farm the currencies for this event.
Mirror Lake (Drops pebbles + postcards)
Normal (8 stages) – 10 vit each (10 pebbles / 3 postcards)
Hard (8 stages) – 12 vit each (13 pebbles / 8 postcards)
Boundless Mountain (Drops twigs + postcards)
Normal (8 stages) – 10 vit each (10 twigs / 3 postcards)
Hard (8 stages) – 12 vit each (13 twigs / 8 postcards)
---
Holiday Shop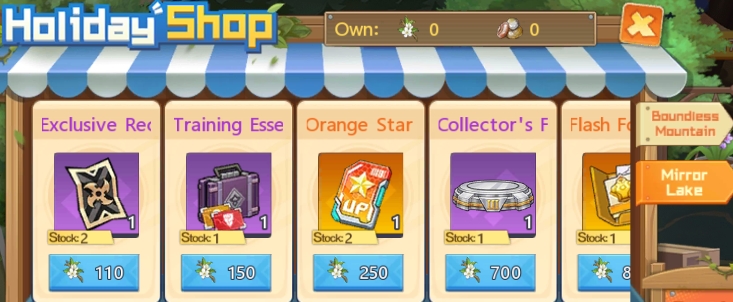 Here is where you spend your pebbles and twigs. Do note that there are 2 separate shops – click the tabs on the right to navigate.
If you don't have enough vit, consider converting some from Saitama's Investigations if you have spare for this event.
Priority List
Must get! (in order of priority)
BT x2
BS x2
SAC x4
Orange Star Ascension Card x2
Reversion card
Good to farm if you can afford the vit
Flash gear boxes (a total of 4 for each slot)
Figurine base
Core powers
Awaken Chips
If you're a collector
Character figure chest
May character frame
Leftover/Excess currencies to use up
---
Trip Memorial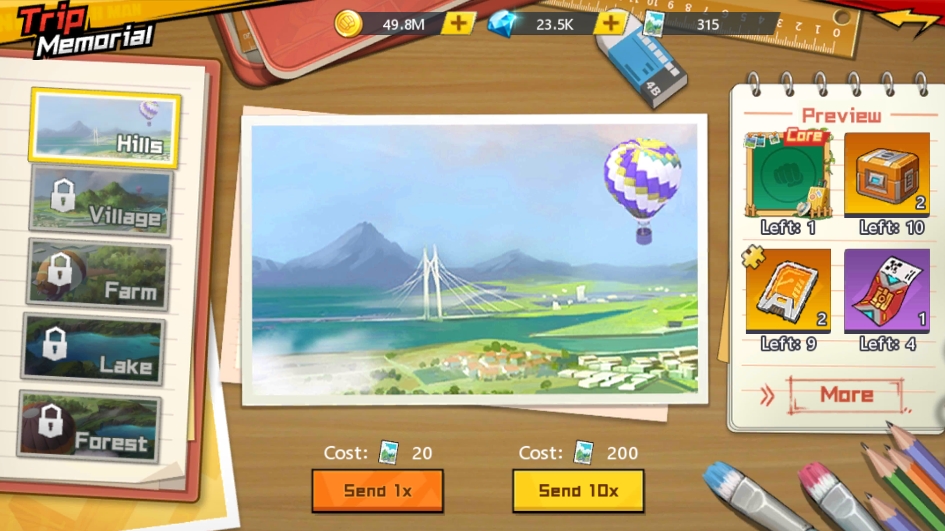 Here is where you spend your Postcards. (Do only use 10x a day to ensure you have enough to complete daily quest, and only use everything on the last day).
Every 20 postcards gives you a 'send'.
There are 5 tiers, starting from the Hills. To unlock the next Tier you need to obtain the 'core' item, which for the 1st stage is the Frame. Again, it's pure RNG and luck to unlock so I think the majority of us will be stuck on the 1st Tier for the event.
Here are the preview of the Tier rewards. (The bottom 2 rewards of each Tier are the same – just coins and gear exp card – so I didn't bother to put them in).
For most players, I think just sweeping the first 3 tier rewards are good enough. Definitely aim for Sigil Chest V and the Emblem stone.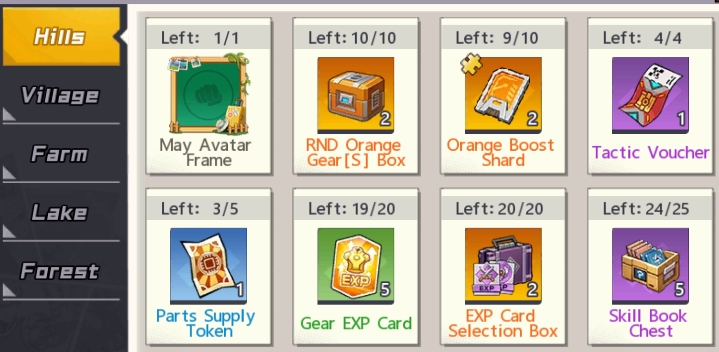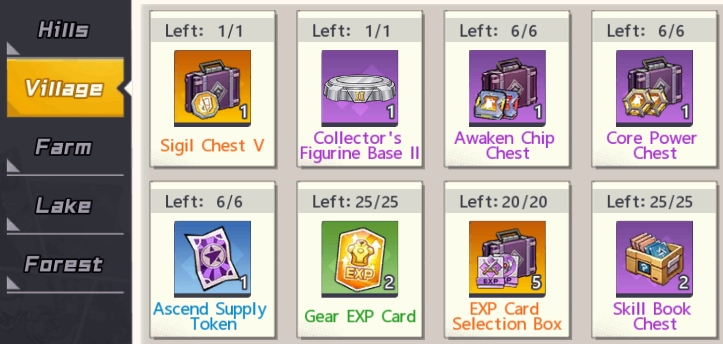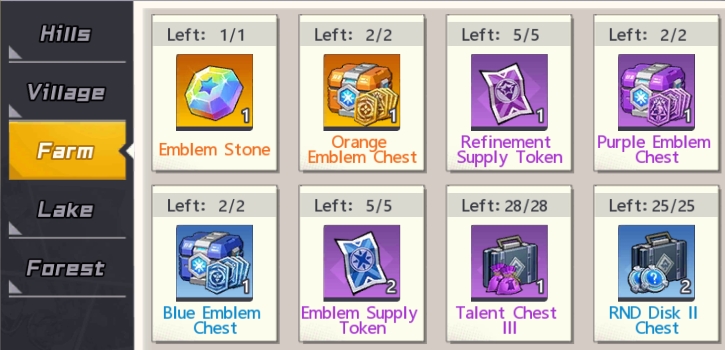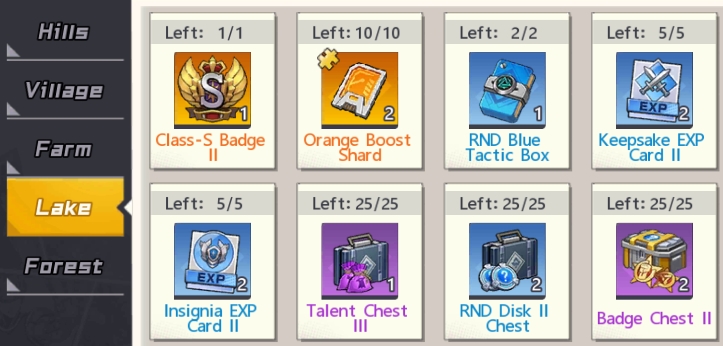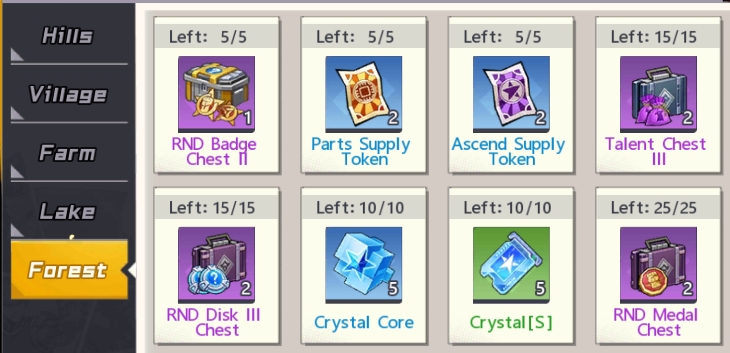 ---
Trip Perfection
A mini event where you can find enemy bosses at the main city. These guys are relatively hard, and it depends on the boss you attack. Even a normal Boros boss comes with the whole gang (Groribas/Geryu/Melz) and they're not super easy to kill either!
The difficulty would depend on your PvE units. If you have strong PvE units, go ahead and do Hard. Else it might be more worth it to just clear 3x Easy.
Extra first attempt costs 50gems, not sure for the 2nd and 3rd cos I ain't spending!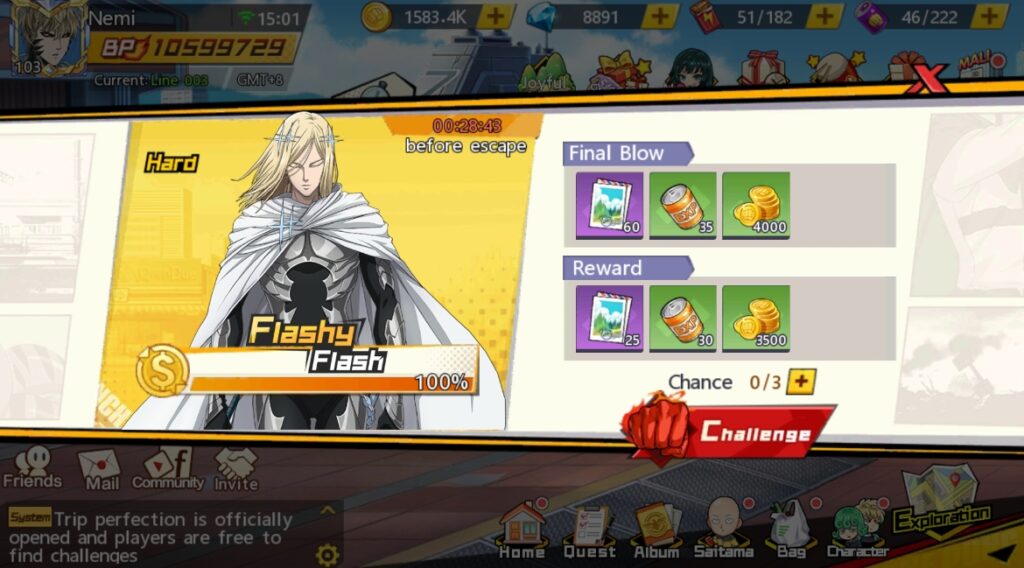 ---
Holiday Task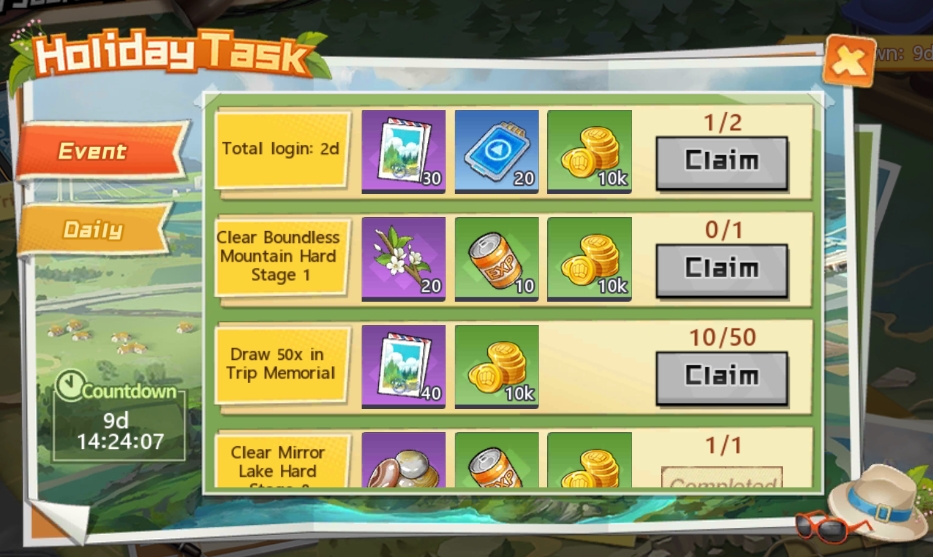 Our quests portion!
Daily quests include:
Purchase Vit 2x in mall
Draw 10x Trip Memorial
Defeat Trip Perfection Boss 1x
All of which are super easy and should be done daily with no issues.
Event quests include:
Login
Clear Boundless Mountain stages Normal/Hard XXX
Clear Mirror Lake stages Normal/Hard XXX
Draw XX in Trip Memorial
The above quests are nothing too difficult and you will complete them simply by just doing the event.
---
If you liked this article, do bookmark this site and follow our Twitter for more One Punch Man: The Strongest guides and updates like this! Join our Telegram group for faster updates!