Surprise, it sucks!
TLDR
F2P: Skip. The Class 2 badge is not for Genos, if you're pulling to ascend his insignia.
---
REWARDS
Summarizing the rewards:
Tier 1 (Total)
200k gold
500 Gear Exp cards
15 Parts Supply tokens
15 Ascend Supply tokens
10 Epic vouchers
5 costume cards
5 SSR Omni chests
1 Sigil Box V
Tier 2 (Total)
25 costume cards
42 RND badge chest II
200 RND Disk I Chests
100 RND Disk II Chests
2 Conspiracy Sigil chest (Gyoro core parts)
30 Orange Gear[S]
15 Genos shards
1 Class S2 Badge
---
HOW MUCH TO PULL
How it works is that you must clear the whole Shelf/Tier 1, before you can go on to draw Shelf/Tier 2. So it's not like a lucky pull of a certain core item that can advance you to the next stage.

Let's assume max draw, which is usually almost the case.
Tier 1 – 60 draws
Tier 2 – 75 draws
Each draw costs 1 gift card, which costs 88 gems.
Max draw = (60+75) * 88gems = 11,880 gems
Let's say if you're patient and you do all the quests to get the free gift cards. In total, you're only going to get 16 gift cards free, so that's only going to save you 1408 gems. You still need 10,472 gems for max draw. If you have more gift cards saved up from previous then all the better!
---
WORTH IT?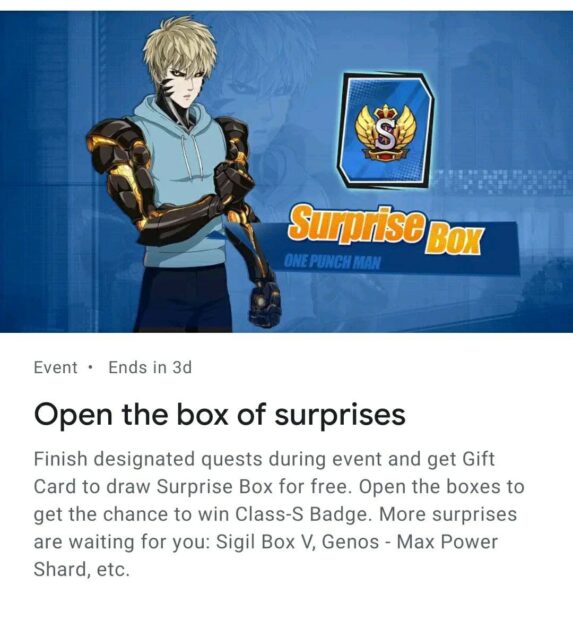 In my opinion this event feels a little scammy. It clearly associates with Genos, showing him and the badge side-by-side in the event ad, but that badge (S2) cannot be used for Genos as he uses S1. So unsuspecting players might not check before pulling only to realize it can't be used for him.
Granted, the S2 badge can be used for other units you may have, or for upcoming LSSRs like ATT/DK, but the point here is the unscrupulous marketing.
If you want to pull or have some gift cards saved up, I feel the Tier 1 is good enough, just pulling the supply tokens, omnishards and Sigil Box V is great enough. You can choose DMG or SUP, but I'm not sure if you can further choose which sigil you can get. If so then this might be worthwhile to pull to get a Sharp V or Vit V.
PS: The gift cards carry over and do not expire, so do the quests and save them for the next surprise box.
---
If you liked this article, do bookmark this site and follow our Twitter for more One Punch Man: The Strongest guides and updates like this! Join our Telegram group for faster updates!