25 Jan – 12 Feb 2022
TLDR: Enjoy the activities, do all the events and quests, level up and get SSR Fubuki! Yes F2P can get her very easily, as long as you do the events diligently.
---
INTRODUCTION
This is a new and huge event, consisting of many more sub events and other activities. The highlight is that you can get the brand new SSR Awakened Fubuki from this!
To obtain her, you'll need to level up your Spring Guide Booklet all the way to lv45. You'll also get her shards/[F] shards after that to help in limit-breaking.
Other notable rewards include:
New Spring Avatar Frame (lv10)
New Spring Character Frame (lv20)
New Spring Chat (lv30)
SAC (lv21, 31)
New Spring Badge (lv40)
To level up, you can complete the quests in the various activities that will reward you with "Spring Joy Badges", that will give XP to your booklet automatically. (10 badges = 1 lvl)
Alternatively if you're a whale and you're lazy to do all these, you can purchase with funds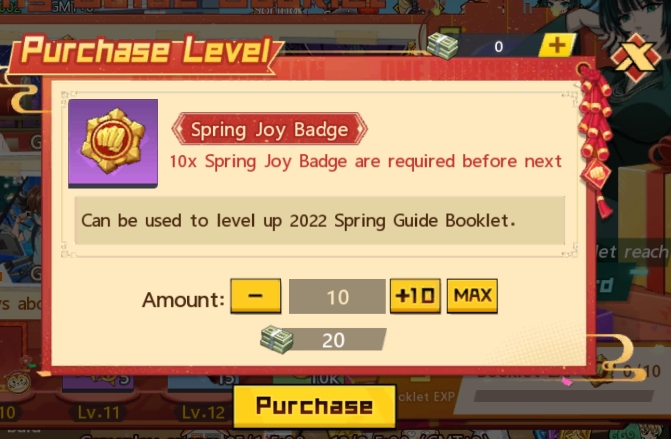 ---
DRUM EXPERT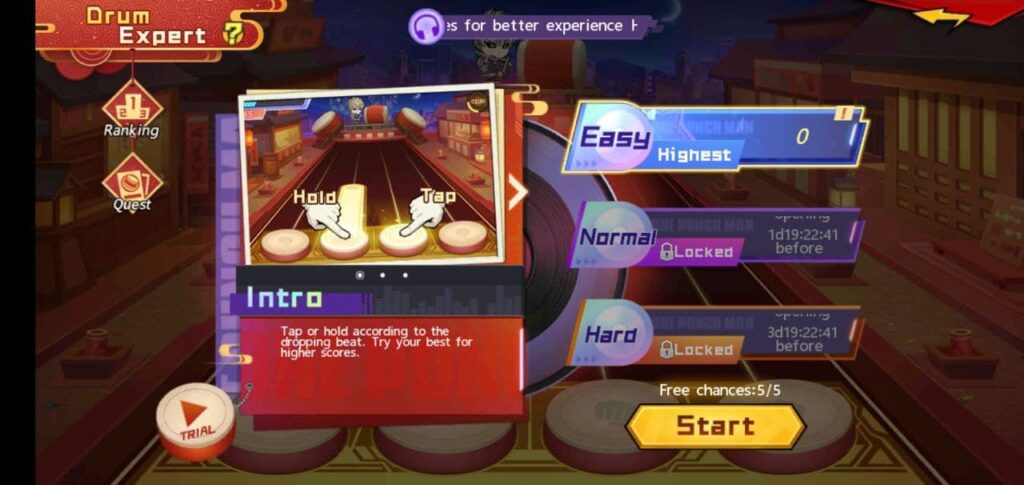 If you've ever played DDR or DJ Max before, this is similar. Tap/hold as the circles come down. I recommend playing on mobile for this because you're going to need all your fingers, so Bluestack players you might want to switch!
Remember to have music ON as it will help you tremendously, just tap along with the beat of the music. Don't forget to complete the quests after playing!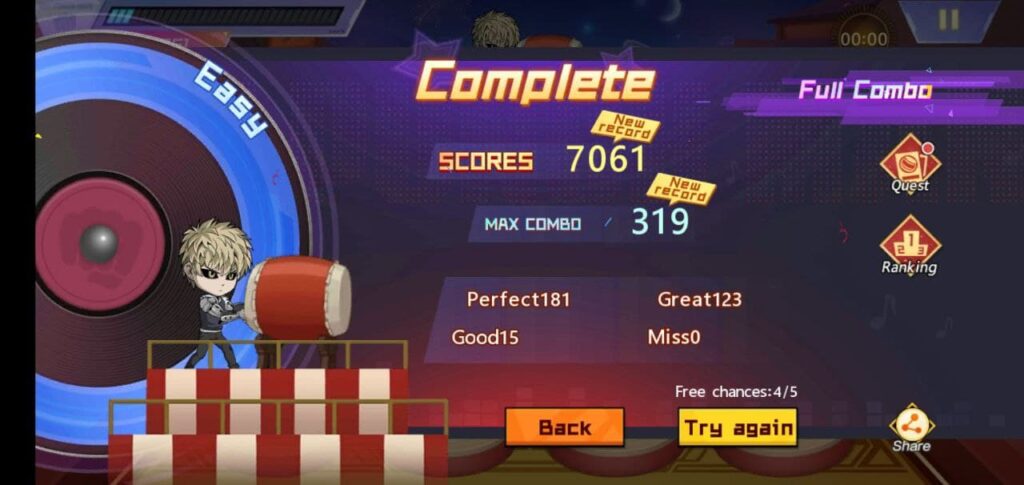 If you're competitive, there's also individual rank rewards for this event.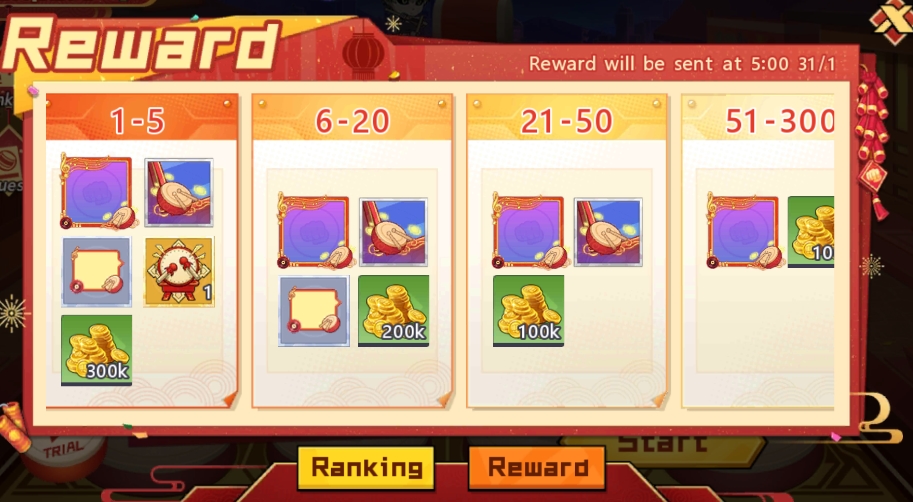 ---
SECRET ORDER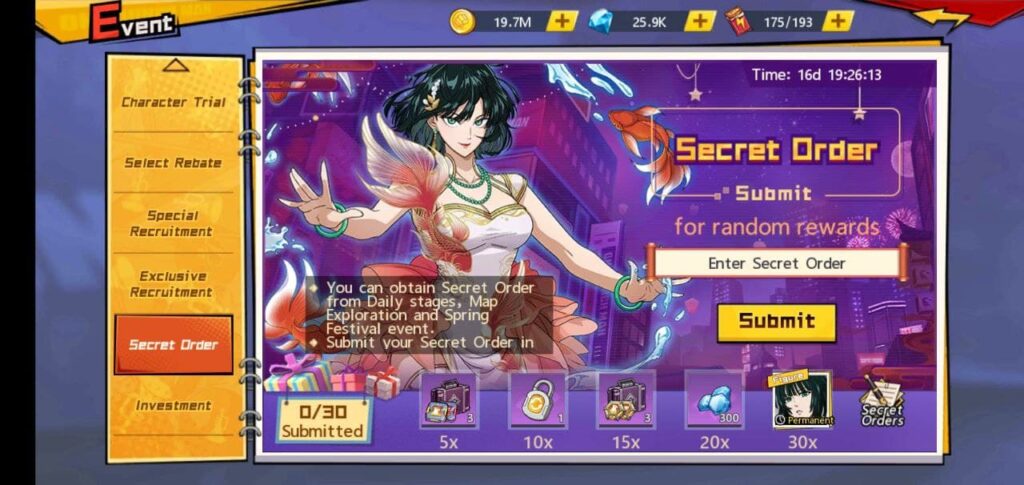 This event is similar to the CNY greetings thing – you just need to type in the phrases/words to get rewards.
You can find the words by doing daily stages, map exploration, data battle, drum expert, monster invasion and restaurant stages. However the easiest way is via social media or looking at your world chat where others may have shared! And of course right here in this post!
At 30 submissions, you'll get the Awaken Fubuki character figure for free, so it's definitely worth doing!
Here are some; do note it's case sensitive so you need to follow exactly – (this list will be updated periodically as and when I have more info. You can shout out in chatbox if you have as well)
1. Friendship
2. Dream
3. Fortune
4. All the best
5. Strike it rich
6. Radiance
7. New year
8. Usher in the new
9. Bright future
10. Farewell to the old
11. Peace
12. Endless joy
13. Spring blessings
14. Auspiciousness
15. Safe trip
16. All is well
17. Jubilation
18. Wealth
19. Spring Festival
20. New moon
21. Glamor
22. New spring
23. Safe and sound
24. Happy together
25. Vigorousness
26. Good news
27. Heavenly blessings
28. Easy luck
29. Lovebirds
30. Celebration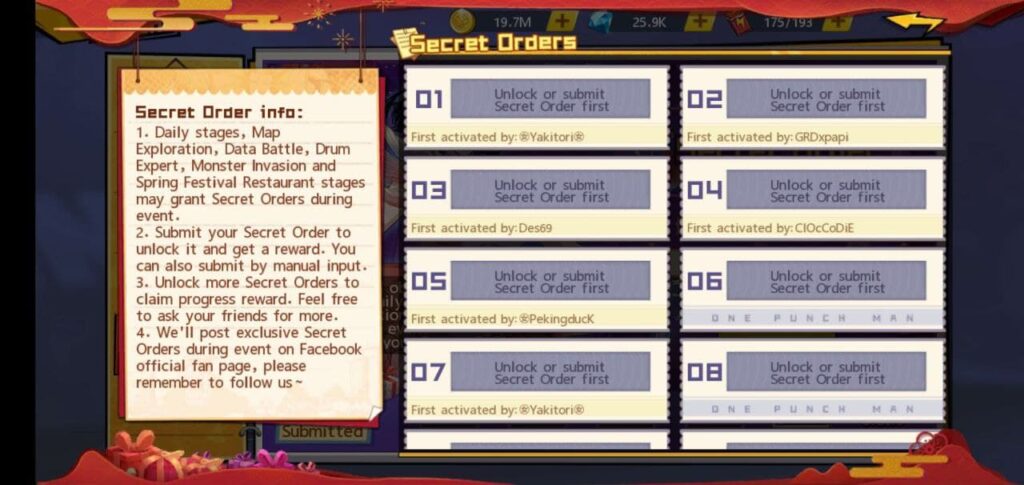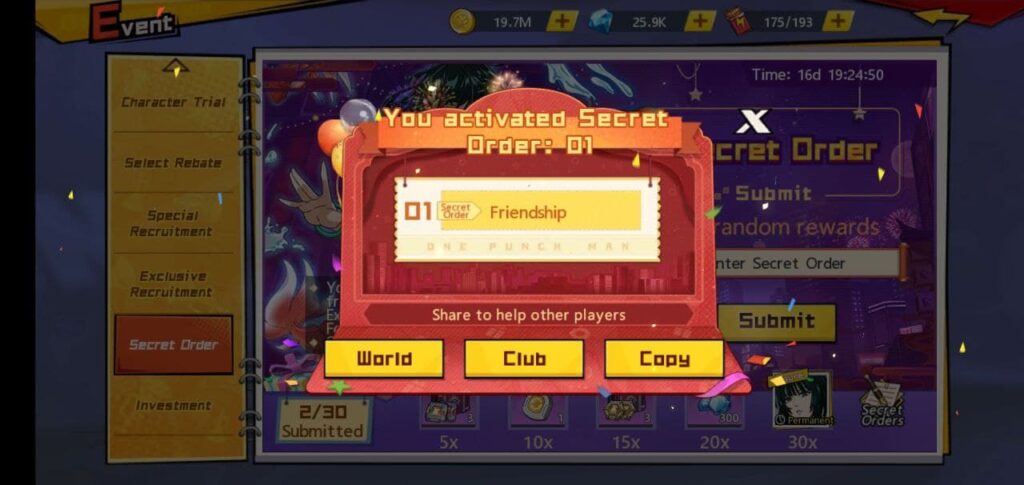 ---
DATA BATTLE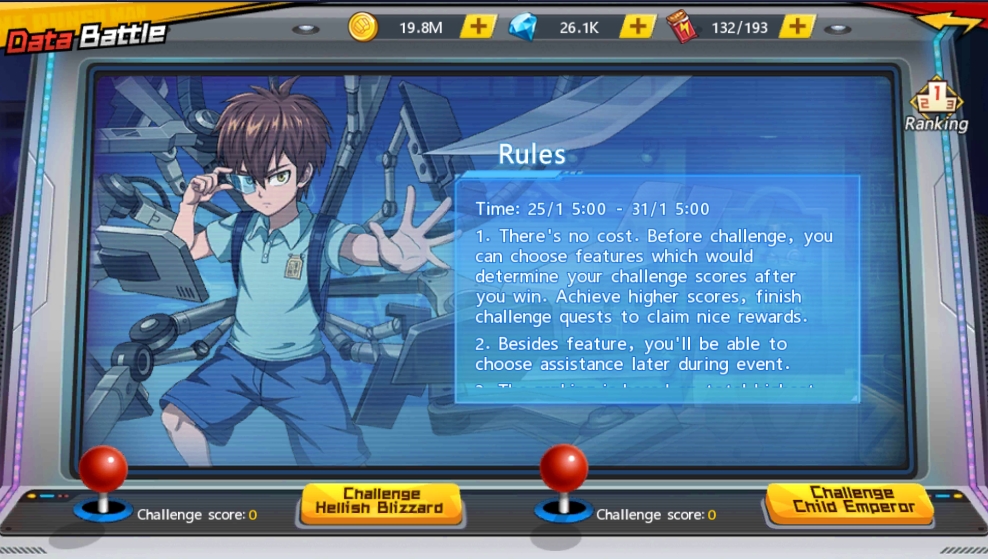 Here you can challenge CE and Fubuki unlimited times.
You can boost your score by making them harder to fight by:
Choosing certain buffs for them, like taking less injury damage etc. Do note there's different tabs to choose from! For each category you can only choose 1 (basically choose all the purple if you want the hardest)
Increasing their level -click on Lv1 and you can change it to higher levels etc, up to 60 (scroll down)
I suggest choosing enemy buffs which will have zero or little impact to you, such as R attack or C attack etc. Because when using bossing lineup, you will mostly be using Single Attack like RMG, Sonic etc.
Enemy buffs suggestion:
Extra dmg immunity I
DoT immunity III
Injury immunity III
R.ATK dmg free III
C.ATK dmg free III
G.ATK dmg free III
Accumulation III
Freeze (you can swap this out for others like Battle Ready I, as I found the freeze to be too unpredictable. Freezing RMG would be a guaranteed loss)
Slow
Levels slowly increase and do the highest you can (based on your units)
It's tough because you need to survive as she hits quite hard, so some support units could be TTM, Alloy, Fukegao/PPP (for weaken), etc. But at the same time you also need DPS to finish her in 6 rounds otherwise you still lose.
I managed to get 15k with RMG/TTM/Alloy/G4/Bomb/ZBM – mostly try to survive and kill with Follow-up. It really depends on what units you have!
UPDATE: With the below debuffs and line-up (with some tweaks from the original), I've managed to clear my 23k score quest! Shoutout to the guys in my Telegram for this, namely Jiro.
DoT immunity III
Injury Immunity I
C.ATK Free III
R.ATK Free III
G.ATK Free III
Battle Ready III
Accumulation III
Slow
And lastly level 60
My line-up was RMG, G4 (for shatter+weaken), Sonic, ZBM, Bomb and Alloy. I used Alloy just for extra survivability, but feel free to swap him out for more DPS if you can survive her ult.
For fighting CE, the list will be about the same, except you can go for Injury Immunity III since CE is immune to Injury anyways. You'll want to go full DPS and try to kill him on turn 1, because he can heal back quickly if you let him move. Don't be afraid to play around, I actually used Gyoro Core4 for the extra DPS and managed to kill him on Turn1 (at lv50).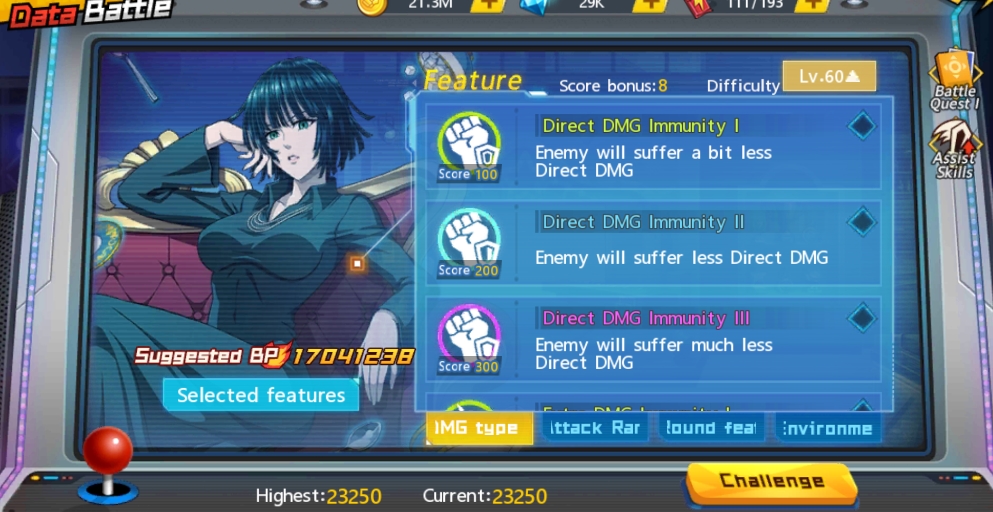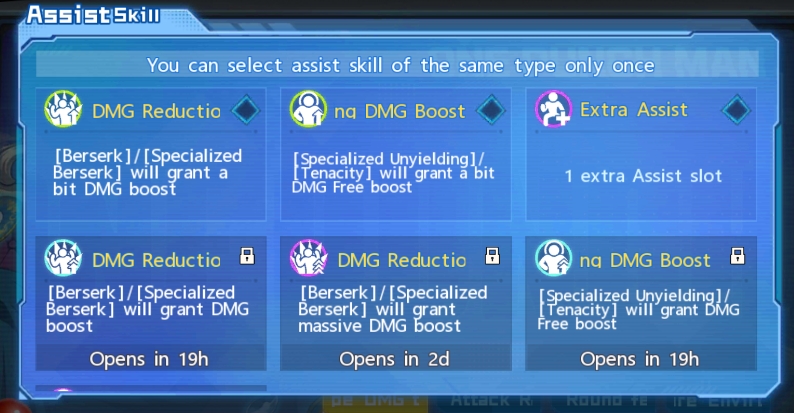 Again, there's individual rank rewards, which closes on 31 Jan 5AM. It's nothing much, but we do see Melzargard Figure for the very first time, so this might be your only chance to get it if you really want it!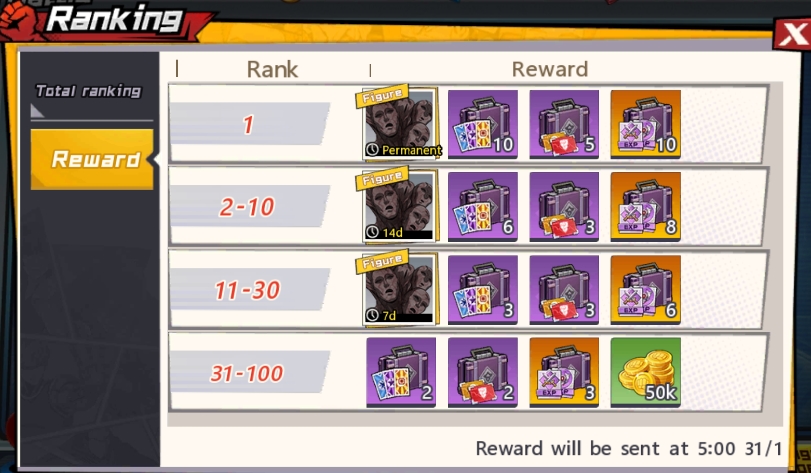 ---
NEW SPRING CARD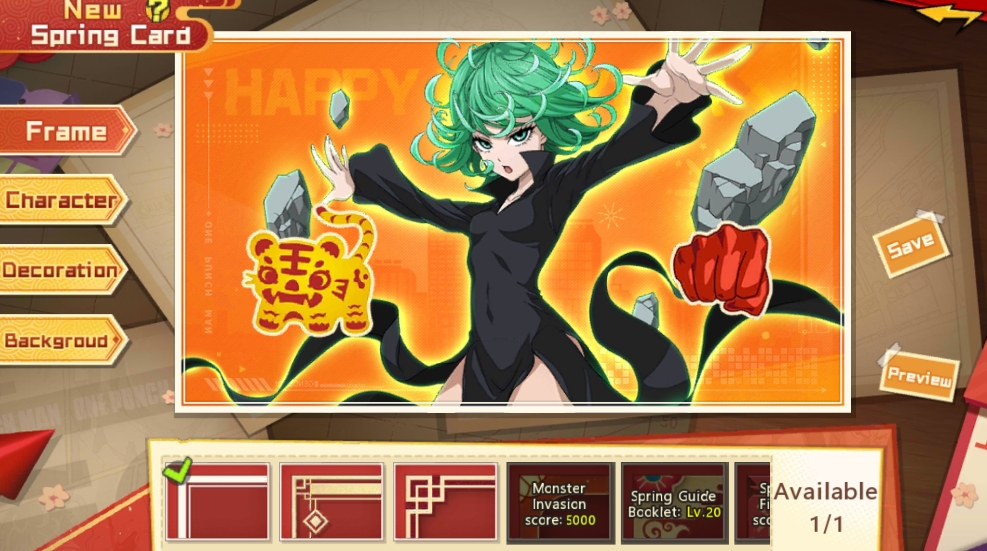 There doesn't seem to be an objective here, seems like a for-fun thing to show off. But you can do a daily share to get free 50 gems!
---
MONSTER INVASION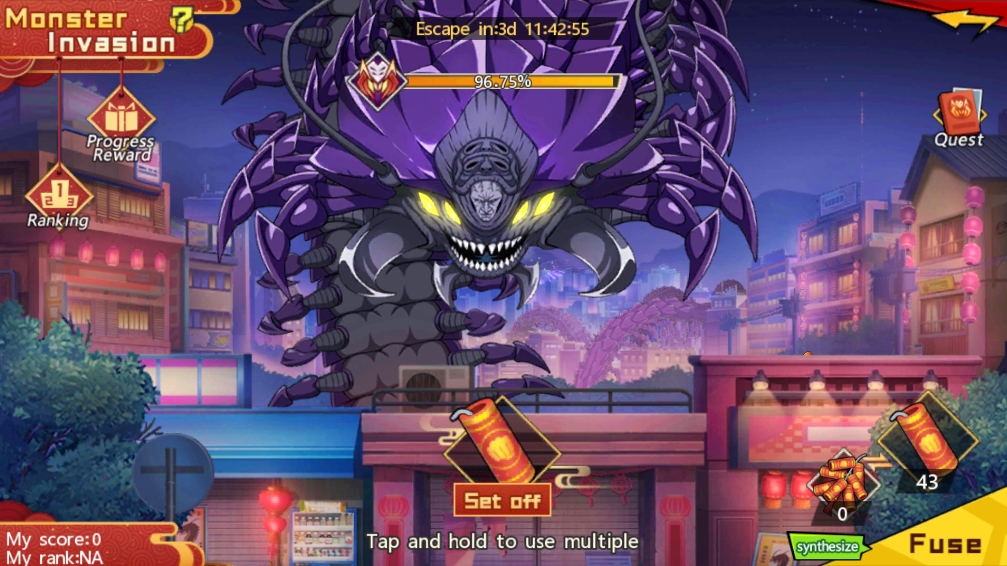 Attack invading monsters with fireworks!
But first you need to make some fireworks. You have to kill those monsters you see in town (lasts 30mins) to get mini-firecracker. Do the Hard stage, they aren't so tough, there will be multiple enemies so use your PVE AOE team. ATT+VM will easily do it. You can challenge 3 extra times with gems I believe (50/100/150gems).
You can use these mini-firecrackers on the boss for 100pts, but you can also create a bigger bomb with Fuse (obtained from quests) + 5 mini-firecrackers for 1000pts!
Once you have them, select which 'bomb' you want to use (the Big Firecracker or mini one) by selecting the right (the icon over "Fuse"). Then press SET OFF in the middle!
NOTE: You can also buy the Fuse rope from the mall!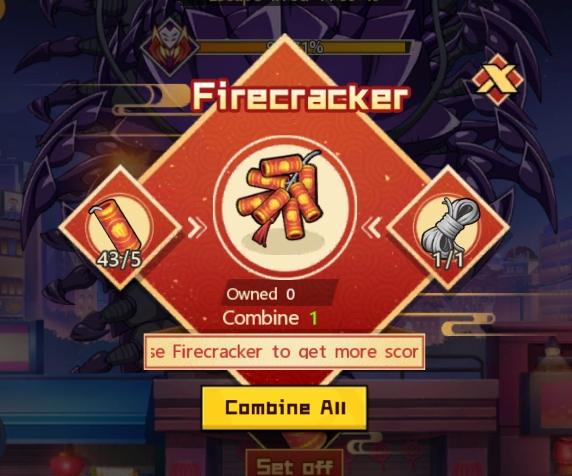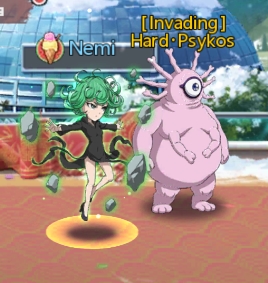 The ranking rewards are pretty nice, and you'll also get mini-firework for the Splendid Firework event. I think it would be similar to this event, requiring you to combine mini with something else and shoot it up, but we'll see. It seems every event is tied to each other so you really have to do everything.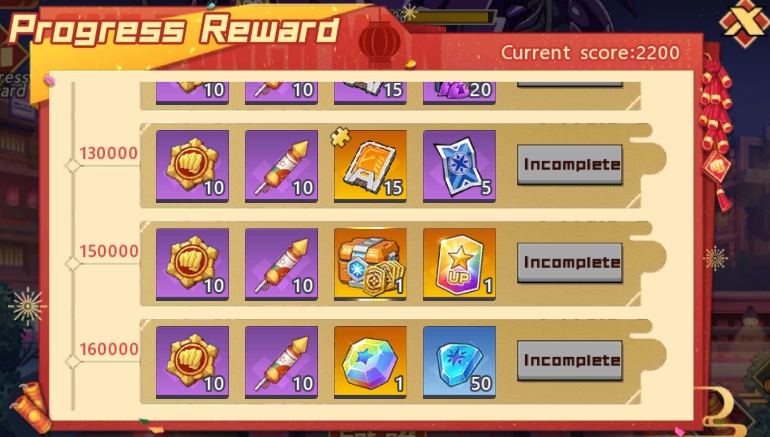 Here is a calculated guide on the expected diamond cost if you are aiming for higher scores, done by John Araneta from FB.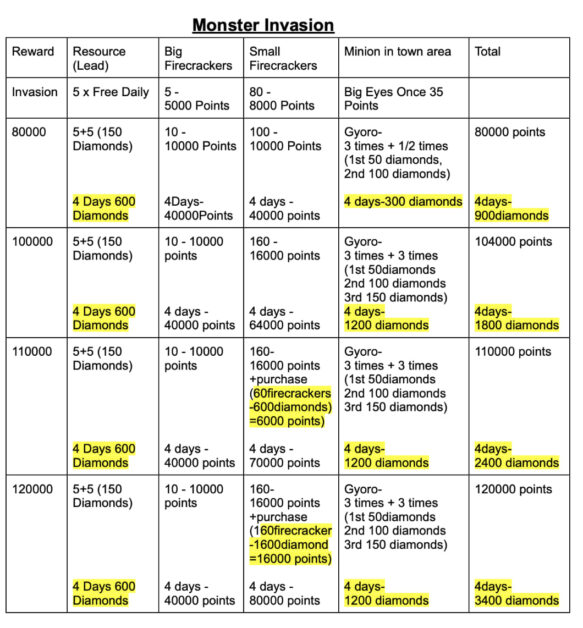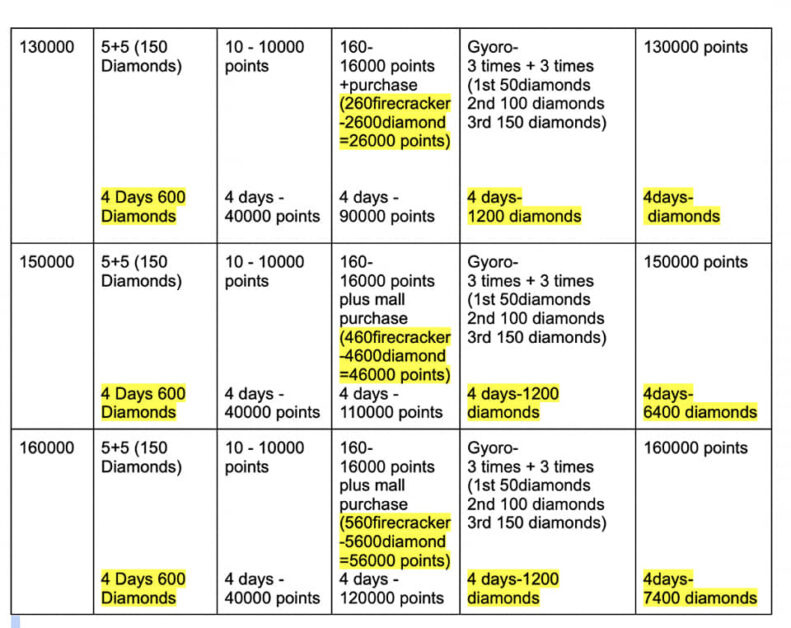 ---
SPLENDID FIREWORK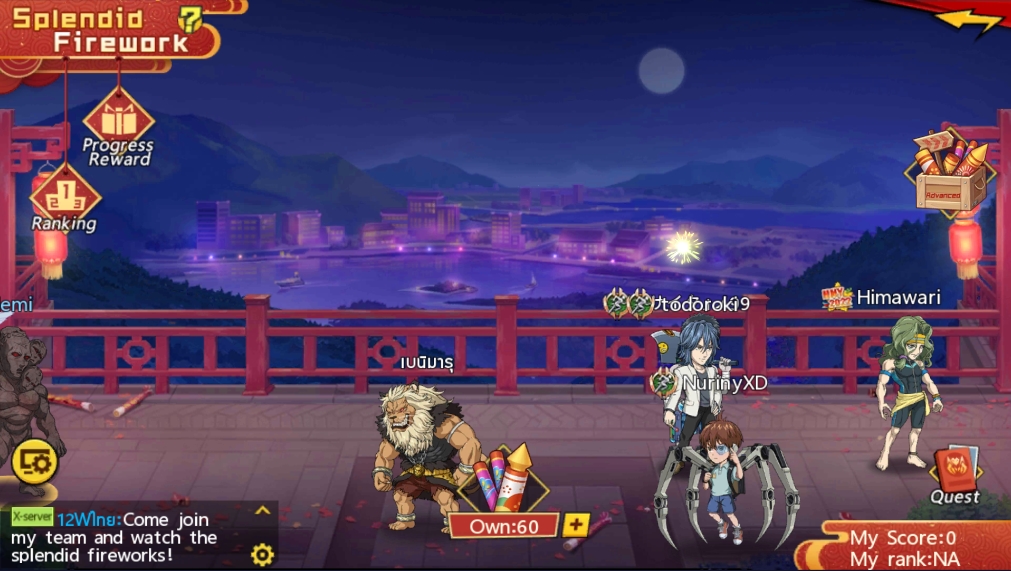 Set off mini-fireworks and firework bombs to get high score! Set off more in a go to achieve better effects. (looks like at 10, 20, 30, 50, etc)
You can get fireworks from consuming stamina and event quests.
You also get firework bombs from the progress reward. Invite friends when setting off Firework bombs and stand a chance to get special prizes.
---
BLESSED SIGN-IN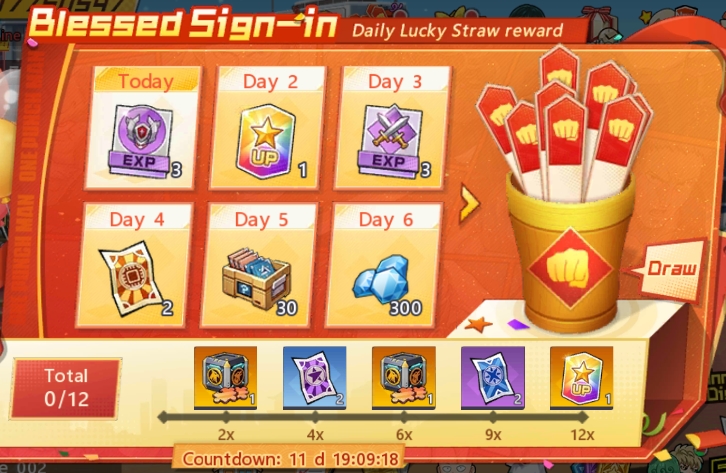 Literally just sign-in and grab the goodies. There's a bunch of amazing rewards for free so this is super great!
---
SPRING ILLUSTRATION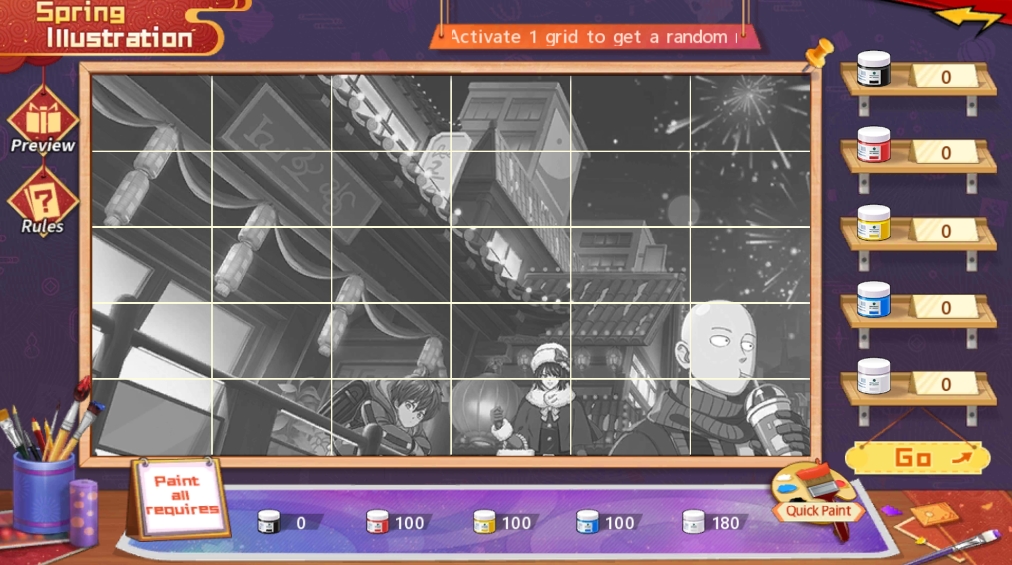 Pigments dropped from Spring Festival Restaurant stages can be used to paint Spring Illustration
The Illustration consists of 4 parts. There are 30 grids in each part
You can claim a random reward after painting 1 grid, and a corresponding reward after completing 1 part. Pretty good rewards like BT, BS and SAC but if you're lucky!
You can claim 1 extra reward after finishing all 4 parts
Grid rewards:
3 omni-chest + Spring Joy badge
20 Orange boost + Spring Joy badge
Research soul chest + Spring Joy badge
Sigil Chest V + Spring Joy badge
Emblem stone + Spring Joy badge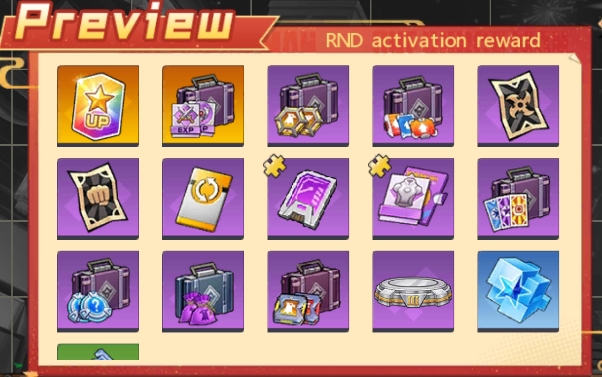 ---
SPRING FESTIVAL RESTAURANT
This is the typical spend vit on stages activity. Here is where you get the pigments for paint in spring illustration.
From what I can see, there's only 1 chapter. First few stages cost 8 vit but will increase with difficulty. You mainly choose the stage based on what color paints you need for the grid, so just sweep away!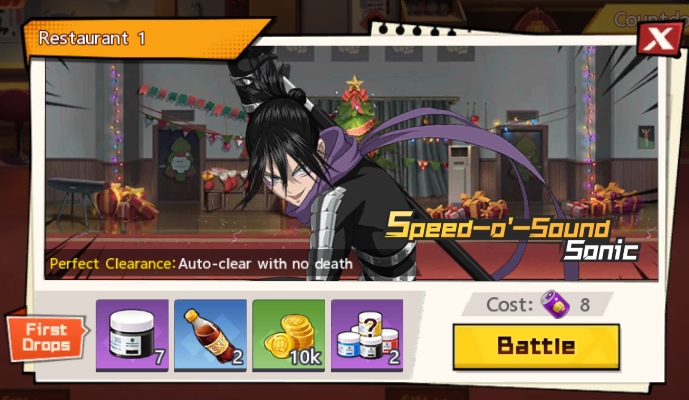 ---
---
If you liked this article, do bookmark this site and follow our Twitter for more One Punch Man: The Strongest guides and updates like this! Join our Telegram group for faster updates!