16 – 26 Jun 5AM
TLDR
Do Exploration – Games City etc.

I think full clearing the map of Games City + Amazing House should be enough to complete BT and BS prize bingo, will update again.

Complete the quests so you get enough tokens just to get BT and BS
Exchange Darts for rewards
As usual if you don't have enough VIT, consider using your Saitama Investigations
---
Exploration – Games City / Amazing House / Food Court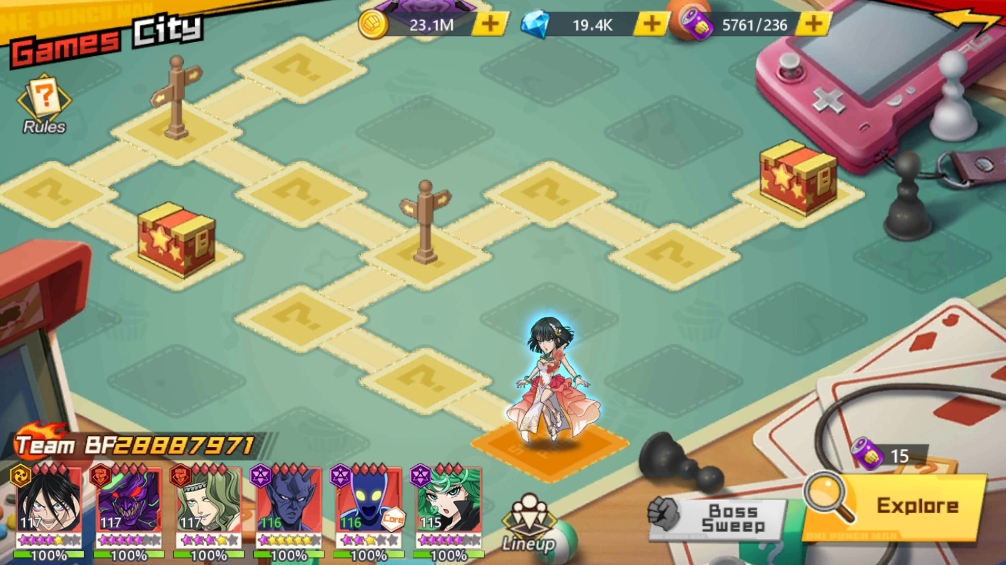 Line-up can't be changed once you start exploring
If any unit is defeated, map will be reset (go back to start)
Your team will heal on green boxes (life heal)
To move a square forward will use 15 VIT (click Explore to move). This will trigger random events
When moving at forks, your line-up will determine which direction you can move.
Do note that YOU CAN'T CHOOSE THE DIRECTION AT THE FORK, it's auto determined by your line-up, eg
Go right – line-up must have at least 2 grapplers;
Go left – line-up must have 1 or 0 grappler
So if you want to go left, you CANNOT have 2 grapplers otherwise you will always just go right. Meaning you cannot use Geryu core.
Once you clear the whole map (kill boss + obtain all the chests + unlock all squares), you can then sweep boss. This will be useful for farming the anniversary token quest.
Main reward is Dart used for popping balloons (and coins/XP sodas)
You can manually reset and go back to start by pressing the Back button at top right
Amazing House opens on 17 Jun
Food Court opens on 18 Jun
Games City:
Top right chest – deploy 2 grapplers
Bottom left chest – deploy 2 duelists (0 or 1 grappler)
Boss – deploy 1 grappler 1 duelist
Amazing House:
Top chest – deploy mumen rider. After getting chest, proceed on to kill boss. You will reset after boss so you will miss out on the square after him
Bottom left chest – deploy 2 Hi-Tech (no mumen)
Turn right to last square before boss – Deploy 1 or 0 Hi-Tech
Food Court:
First Fork:

Right – Deploy 1 SR Esper
Left: No SR Esper

Second Fork:

Right: Deploy up to 1 SSR Grappler Monster
Up: Deploy at least 2 SSR Grappler Monster
---
Anniversary Challenge (Boss)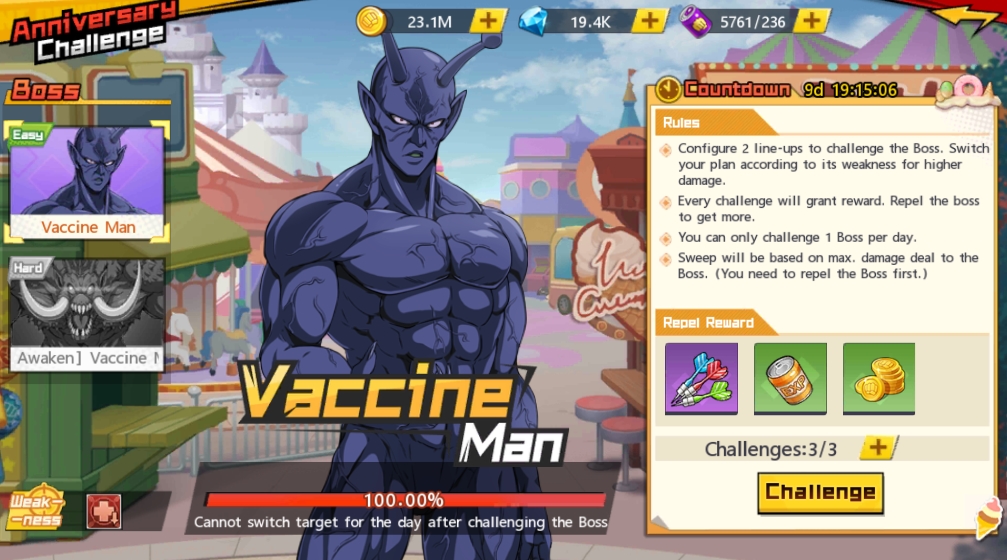 Deploy 2 teams to challenge

Team 1 – inflict debuff
Team 2 – Main Damage team
You can only challenge 1 boss a day
You can sweep once you defeated the boss (sweep 3x, can buy 3 more with gems 50, 100, 150gems)
VM (inflict DoT or Tenacity):
Team 1 – DSK, Lightning Max, MEM, STK, ATT, Genos. If you have Undying Emblem you will already get 3/6 for the front row shields. If not you can use shield generating units as well like TTM etc.
AVM (inflict Injury/Internal Injury/Shatter):
Opens on Day 3 + Repel VM 12x (if you want to attack him on Day 3, you'll need to buy all 3 chances on Day 1 and 2)
Plenty of options – I used CE (core), Amai, Sonic v1, Linlin, MEM, TT
---
Balloon of Wishes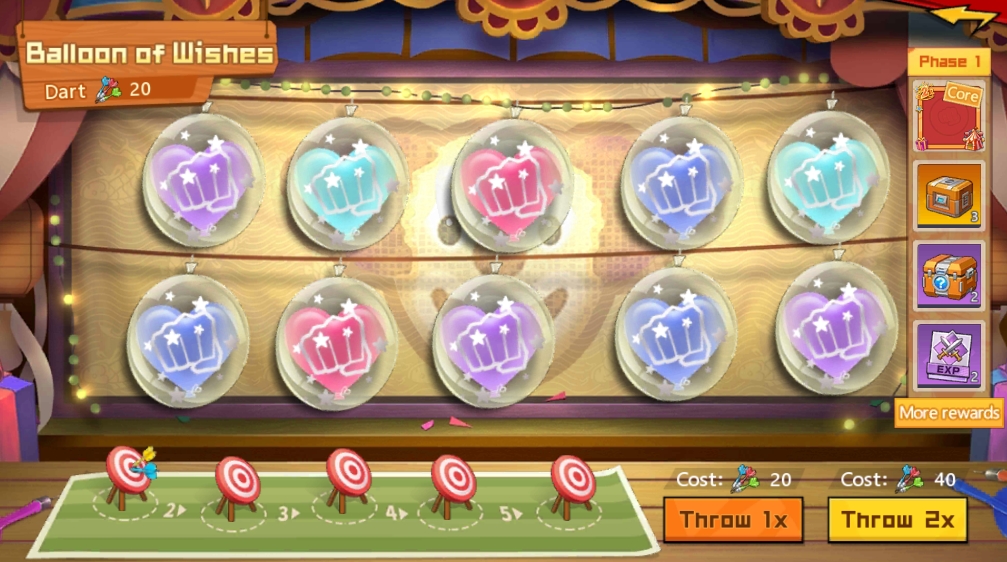 Use your darts here to randomly get rewards
Total 5 phases – to advance to next phase you need to draw Core Reward (shown in right column). Chance is totally random, or until you max draw
Notable Rewards:
Floor 1: Ceremony Avatar Frame
Floor 2: Sigil Chest V (random), Ceremony Chat bubble, Gunner Top gear box
Floor 3: Emblem Stone, Orange Emblem Chest, Gunner Leg gear box
Floor 4: Class S1 badge, Gunner accessory gear box, Gunner footwear gear box, SAC x5
Floor 5: junk, just Supply Token tickets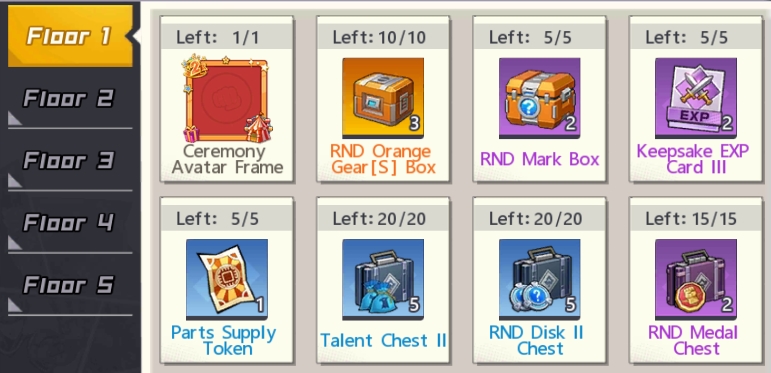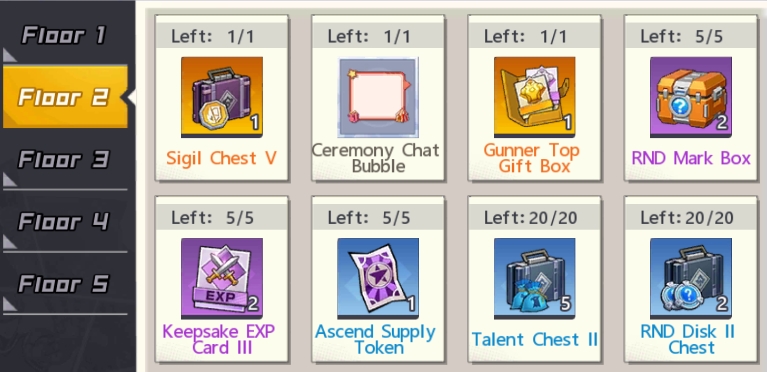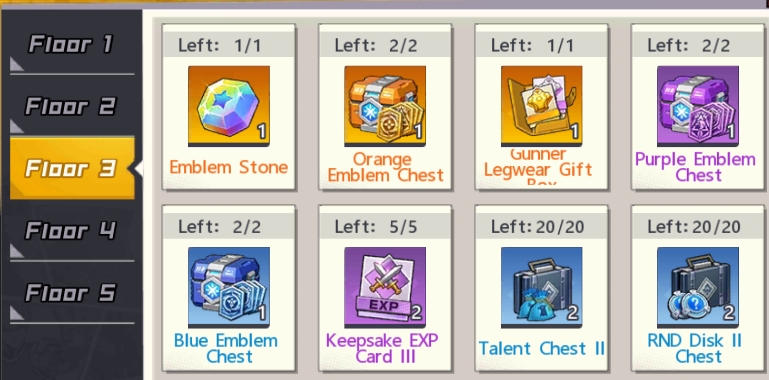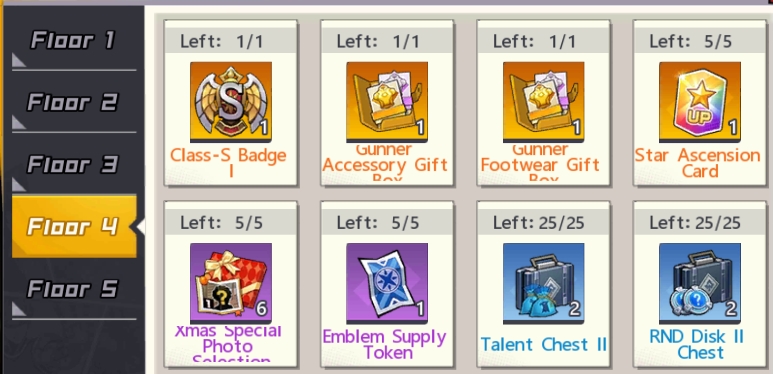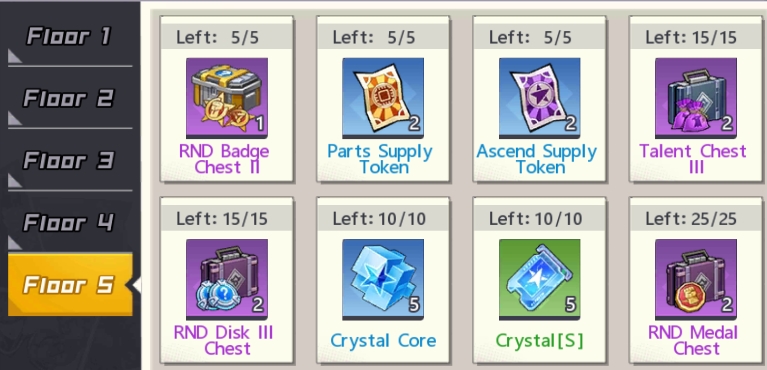 ---
Checklist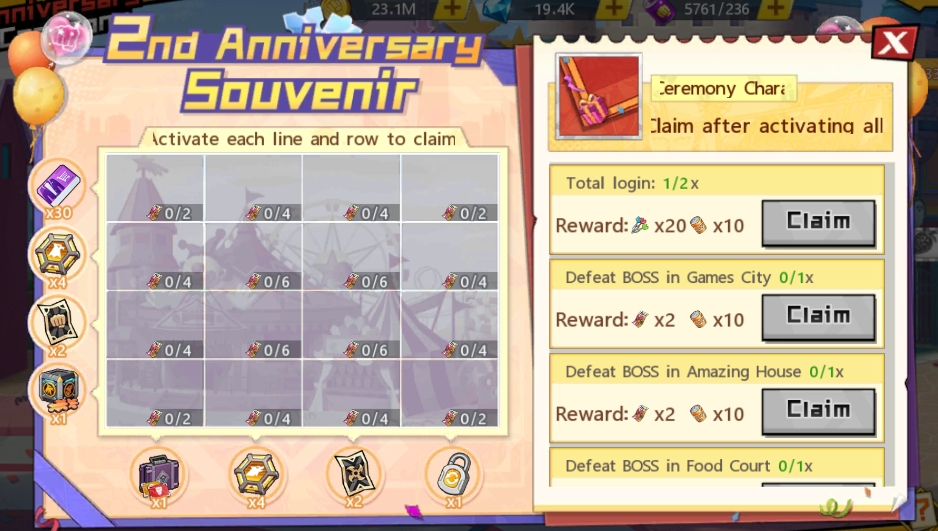 This is probably the most important place to take note because you'll want to get your BT and BS.
HOW TO PLAY
Basically like Bingo, you need to activate the whole column or row to draw the respective reward
Complete the quests on the right to get Anniversary Tokens
When you obtain the tokens, you can choose which square you want to activate first. Make sure you go for BT and BS row/columns first.
Once quest is done, it will be refreshed another quest until the series is completed
Do note that if you want the Ceremony Frame as cosmetic, you'll need to activate ALL pieces
Total tokens for BT and BS = 34
If you clear the whole map (boss + chests + unlock all squares), you can sweep the boss just for 15 VIT instead of doing the whole run again. There are Clear Boss 3x quests later on, so you definitely want to clear the map.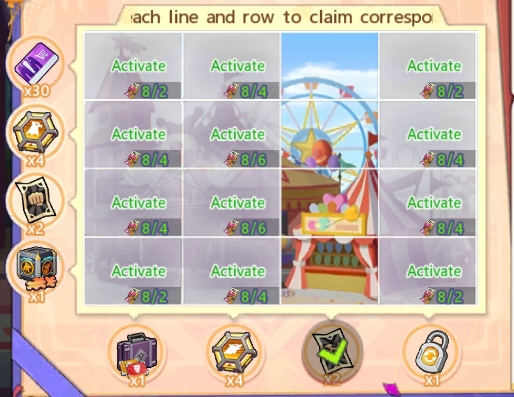 Priority:
BT and BS
Omnishard
Reset lock
Costume Card if you like costumes
---
---
If you liked this article, do bookmark this site and follow our Twitter for more One Punch Man: The Strongest guides and updates like this! Join our Telegram group for faster updates!