Initially I wanted to only do posts for SEA server events and news, but it seems that many of you are asking for the latest in CN, so from now on I will try to cover the LSSR debuts in CN (just these, not events).
---
AWAKENED KING
Our latest hero in CN server is SSR+ King V2! He is the next team speed booster after Sonic, and also the first time we're seeing a Tenacity killer.
Awakened King SSR+ (Esper/Hero) [Class S1]
Basic: Restore an ally's HP by 150% ATK
Ultimate: (No energy consumed) Apply [Fear] to all enemies (seal 2 energy for 1 round). Reduce the [Resilience/Tenacity] of 3 highest HP enemies by 60% and heal for 2 allies with lowest HP by 300% of their ATK.
Passive: Increase row speed by 90% of King's SPD.
SSR+ Awaken Passive: Summon drone at start of match (ATK &HP are 100% & 800% respectively of King's ATK). Drone will absorb 90% of all types of DMG received by King (excluding emblem and reflect effect) until its HP is 1%. Drone will follow up (after allies move) on 1 random enemy (350% ATK, up to 2 times each round).
Pic credits to Gibrah Noah
---
BT IN REWARDS
A new change is that they added BT as part of the banner pull rewards, and also more LSSR shards which is pretty nice actually. We'll have to see if it continues on like that.
60x – 5BT, 2 shards
120x – 5BT, 5 shards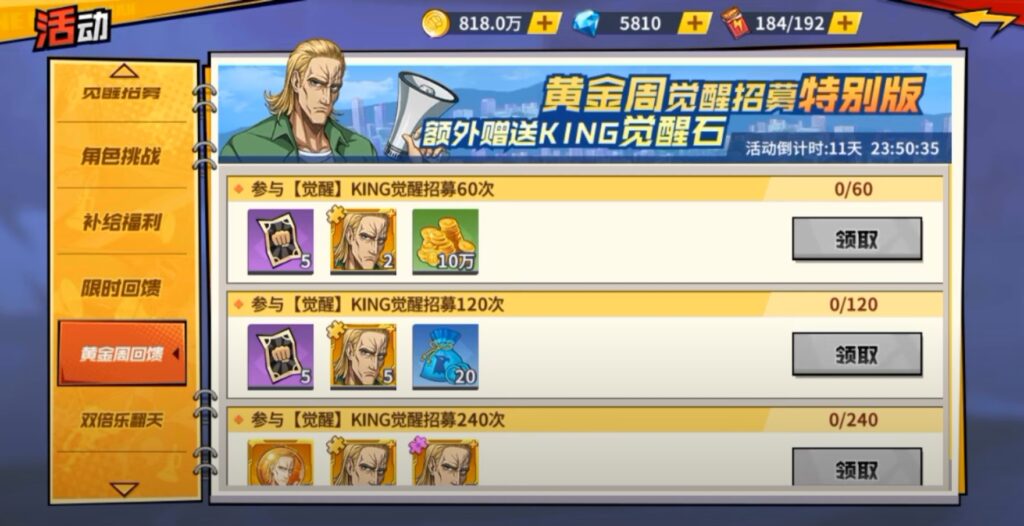 ---
If you liked this article, do bookmark this site and follow our Twitter for more One Punch Man: The Strongest guides and updates like this! Join our Telegram group for faster updates!