4 Mar 5AM – 14 Mar 5AM
All event tokens will be removed from bag after the event and converted into coins.
TLDR
F2P: Do enough just to buy all the BT, BS and SAC. If you have more leftover or don't mind spending vit (you can convert some from Saitama Investigations!), you can also get Ascend/Parts tokens and the Lv3 DMG/Supp Sigils.
If you're a collector then of course aim for the frame and character frame.
---
Spring Stage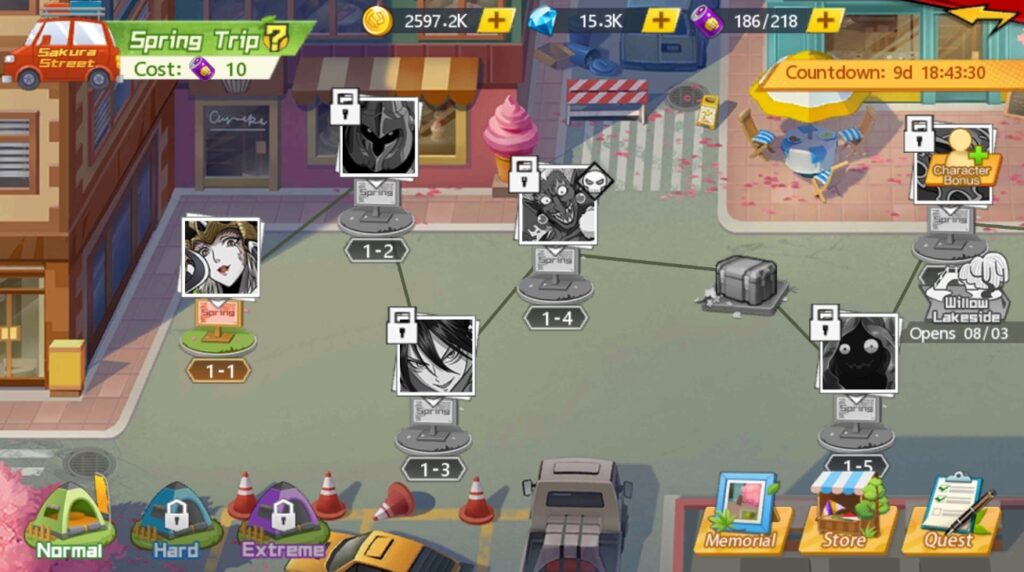 It's the usual spend vit to clear stages mode. There are 3 difficulties – Normal, Hard and Extreme. There are also 2 types of stages – Sakura Street and Willow Lakeside (opens 8 Mar), each offering a different currency.
Sakura Street- Sakura
Willow Lakeside – Willow
Do take note of the character bonus to get extra drops.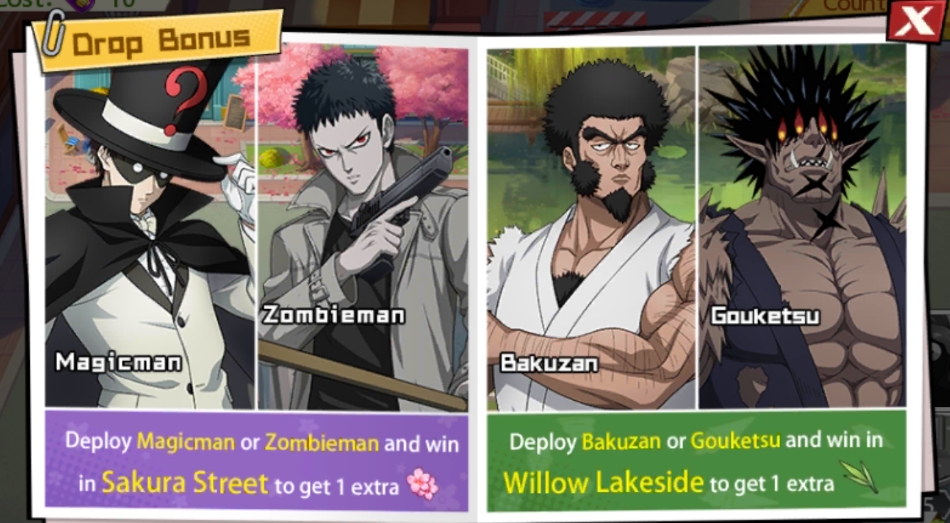 ---
Spring Shop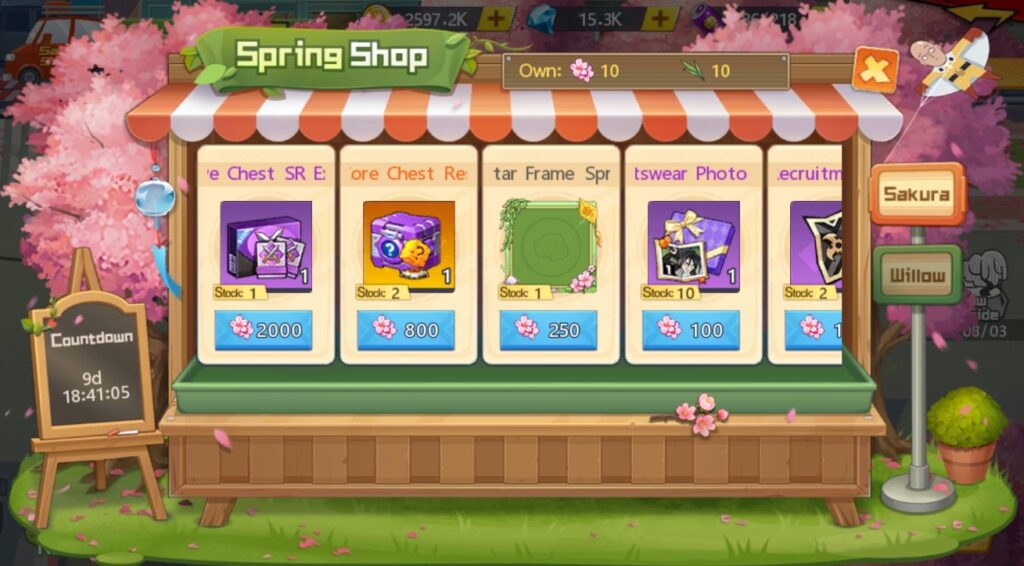 In the shop is where you spend your Sakuras and Willows, do note that each currency has it's own "shop" – you have to select the tab on the right side.
The chest SR KS is Lin Lin or Genos, so nothing much here, easy skip. Lin Lin is mostly used for her passive, and for Genos you can't use it for SSR Genos so don't bother.
Awakening Fragment is useless so don't buy this.
If you don't have enough vit, consider converting some from Saitama's Investigations if you have spare.
Priority List
Must get!
Not too bad but not a must
Ascend Supply token
Parts Supply token
SUP Sigil Chest III
DMG Sigil Chest III
If you're a collector
Spring Avatar Frame
Spring Character Frame
Leftover/Excess currencies to use up
Battle Chips
Skill books
Power Chest
---
Spring Memorial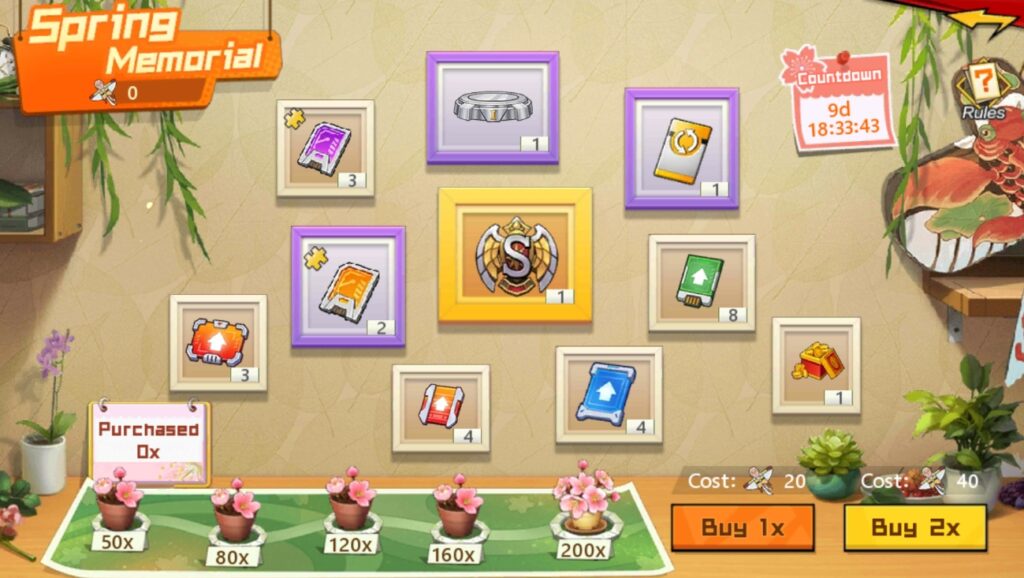 Here is where you spend your currency Kite.
For every 20 kites you can 'spin' once in the lucky draw. If you're low on reversion cards, this is a good time to try and get it.
At various intervals you also get various rewards (50x, 80x, 120x etc) – see the flower pots at the bottom.
You should be able to hit the 50x easily, which will get you a nice collector's Spring Chat bubble. And honestly that's all you need. The only good higher rewards are orange gear shards (160x and 200x), which is not attractive enough to spend that much.
---
Spring Quests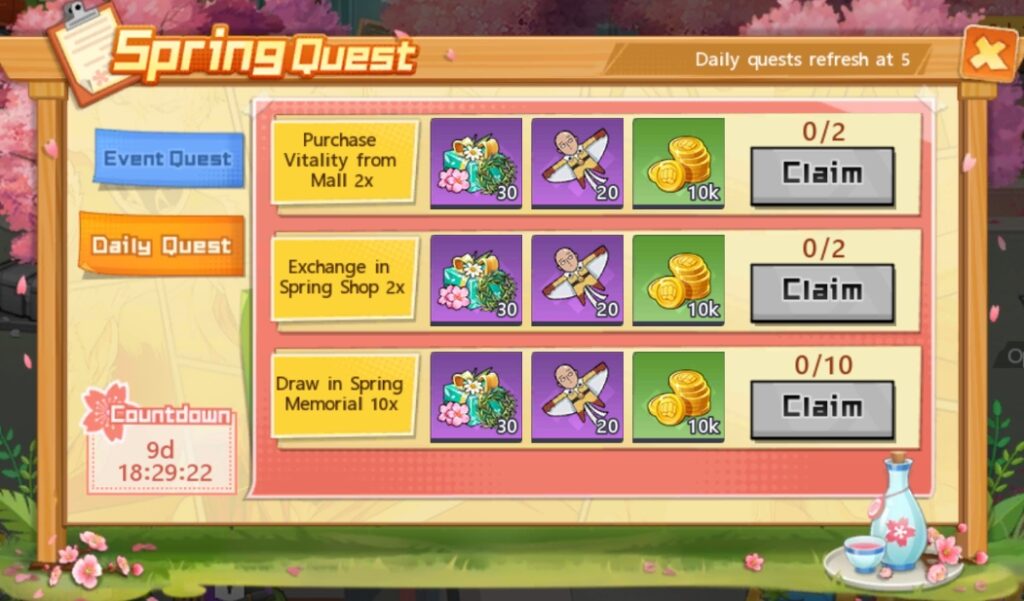 Lastly remember to do all your quests. I'm not sure if there will be any hidden quests with good rewards but as of now they just provide more currencies for you to spend at shop.
You'll want to spread the daily quests out wisely so you can complete them everyday. Eg if you've already exchanged twice in the shop, save your purchases for the next day so you can complete the 2x purchase again. The same goes for the Draw Memorial 10x. Don't draw everything on the first day (where you will get the most currencies due to first time clears) and have nothing to draw over the next 9 days.
EDIT: For those asking about why they're not getting credit for clearance, you need to do it on AUTO, AND do not touch the ults buttons at all. Even if you have it on auto but manually control the ults, it will not count as a perfect clearance.
Just set it once at the start, leave the fight (no vit will be consumed), and restart the match. (credits u/bombadeers).
You also cannot have any deaths.
---
If you liked this article, do bookmark this site and follow our Twitter for more One Punch Man: The Strongest guides and updates like this! Join our Telegram group for faster updates!