Today they just dropped a new event called Lantern of Wishes, and it contains very coveted KS, such as MB, SSS, CK or TTM.
TLDR: YES go for it but only if you have enough gems to max draw, and also spare gems (meaning you have enough to buy your black shuriken packs + upcoming 36 BTs). It is super worth it, and probably one of the best value events SEA has put out so far.
The rewards contain other nice items too such as Dragon Badge, Core powers and awakening chips and buff gear materials, but the main thing is the KS (You can continue to draw for the other items after the KS if you wish so).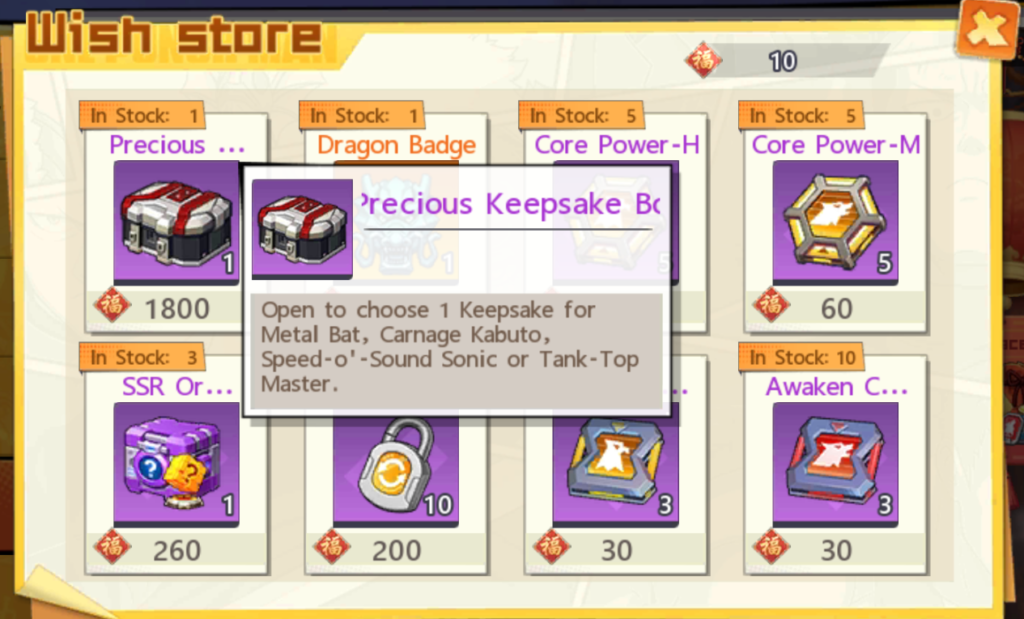 For the KS, it should be a toss-up between TTM and CK KS. SSS is pretty useless, and if you have MB you're not F2P (the target audience of this guide). That leaves CK and TTM, who are still useful and will be relevant for quite some time.
If you have a strong CK but don't have his KS, then definitely get CK's. He changes into a pseudo-LSSR with his keepsake, allowing to heal wayyyy more. This helps not only with PvP but PvE as well.
If you already have CK KS from the previous claw machine event, then you can go for TTM which will increase his dmg and Tenacity. This will be useful for PvE as well such as HxM etc. Do note that whilst CK's KS has appeared twice, TTM's KS has never appeared, and it has only been available via the funds reward ONLY. So I think this is a very rare chance to get TTM's KS for F2Ps.
Some people will argue that CK and TTM are both going out of the meta. They are mostly referencing the "top optimal" lineups referenced from CN server. Sure, the upcoming meta may be "XYZ, insert LSSRs" etc. But as F2Ps, how many of us will actually have those units? Most of us will still be using TTM as the go-to tank for Heroes side, be it PvP or PvE. CK will still remain the main Monster tank. If you have spare gems, why not invest in these 2 tanks which you are using on a daily basis.
---
HOW MUCH TO PULL?
Let's find out how much to draw the KS!
The KS requires 1800 Fortune Cards.
You get Fortune cards from buying Knot of Wishes.
1 Knot of Wishes = 10 Fortune cards guaranteed = 100 gems
Free daily draw for 7 days = 70 cards (0 gems)
Free 30 cards for every 50 draws; 1800/10=180 draws, so you will minimally get 3x of the progress, so 30*3 = Free 90 Fortune cards (0 gems)

Progress rewards will not be available after you consume 500 knots

50% discount for 10 knots (once per day) = 7days*10knots = 70 knots = 700 Fortune cards (3500 gems)
Outstanding cards needed: 1800 – 70 – 90 – 700 = 940 Fortune cards (9400 gems)
Hence total gems for max draw is 12,900 gems for a KS. I emphasize, that is the worst case scenario. That's already cheaper than a claw machine. Not to mention for each draw you also have a chance to draw the various lanterns for extra prizes.
Lantern of Luck: 1000 gems (limit 10x)
Lantern of Dream: 50 Fortune cards
Lantern of Fortune: 10 Fortune cards
Lantern of Prosperity: 1, 2 or 3 Fortune cards
Lantern of Peace: No fortune cards, but a bunch of random items like buff gear materials, sigil etc
As you can see, you will almost definitely spend less than 12,900 gems, so I think this event is definitely worth it if you have enough gems! If you are so lucky to get the Lantern of Luck 10x, that's already 10k gems back to you!
If you liked this article, do bookmark this site and follow our Twitter for more One Punch Man: The Strongest guides and updates like this! Join our Telegram group for faster updates!